Chirag
Chirag – The Social Service Organization of Illumina
Illumina, the Association of the Department of Electrical and Electronics Engineering, conducts an extension activity called CHIRAG to create social awareness among the students and also inculcate charity spirit in the students. The organization ensures participation of students in the community activities.
Activities of Chirag
2022-23
Illumina distributed 200 lunch packets in the premises of Trivandrum Medical College on 3 April 2023. Faculty members also accompanied the team.
Illumina in association with Women Studies Unit distributed Stationery, caps and sweets to the students of Shalom special school on 9 March 2023.
2021-22
Social service
Illumina in collaboration with IEEE PES Student Chapter visited Ananda Nilayam Orphanage and Widow's Home on 30 May, 2022. The partnership was successful in their endeavour to distribute stationery and other essential commodities required for school to the young students of the children's home.
Illumina provided Mixer grinder, Diapers and basic essentials to 'Care Home' for the old aged who were mentally ill and later abandoned by the family. The members also had an interaction with the inmates.
IEEE PES Student Chapter in association with Illumina contributed to a noble cause as a part of Social Service by reaching out to Balika Bhavan, Thiruvananthapuram on 15 January 2022. The team comprising of faculty and student representatives from the department handed over daily essentials to the inmates
2012-16 EEE Alumni batch in association with Illumina contributed to a noble cause as a part of Social service by completing the Electrification work (Wiring and Installation) of a house at Mannamoola during December 2021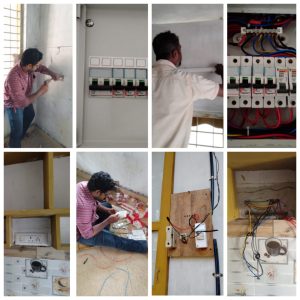 Illumina is contributing to a noble cause as a part of Social service by doing the Electrification work (Wiring and Installation) of a house of one of the members of our MBCET family with the support of the Faculty and the Technical staff during April 2021.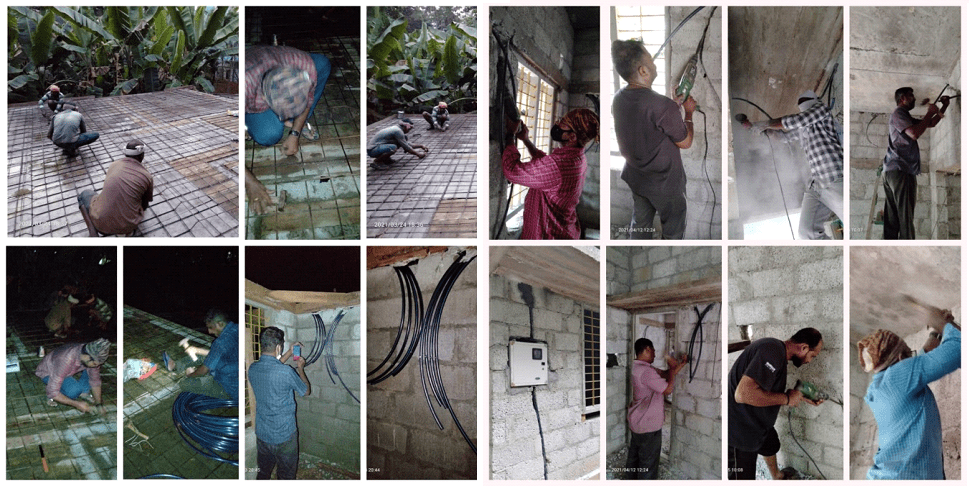 Electrification of a house
The faculty members of the department sponsored the electrification work of a house near Neyyattinkara. The department Technical staff completed the work on 10 December 2019, by sparing their evenings and weekends.

Flood Relief
In the wake of disastrous events r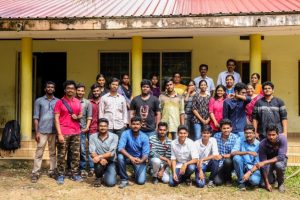 elating to massive floods in Kerala in the month of August 2018, there was a huge need of volunteers to help the post flood aid work in affected areas and for damage assessment. ILLUMINA and IET- MBCET Chapter coordinated their efforts to support with rescue and relief materials to the flood affected people of Thrikkattukara Panchayat of Aluva, Ernakulam District. A group of 18 students along with our four faculty members visited the Panchayat on 1st September 2018, where NSS Volunteers of our college were already camping. The students also participated in the data collection work that was being done by the NSS volunteers. The experience proved to be an eye opener to all members participated for all right reasons.  The faculty members coordinated the program were Ms. Jomole Joseph, Ms. Divya N. A., Mr. Midhun G., and Mr. Rikesh P. Mathew.
ILLUMINA provided support as provisions to eight needy families of Muduvila panchayat in connection with Onam season on 18th August 2018.
SNEHATHEERAM VISIT
ILLUMINA support social service activities in a wide range of areas including environment, science and education, culture and art, and social welfare.  On 24 March 2018 we visited the society 'Snehatheeram', Vilakudy P.O a center with a vision to rehabilitate wandering mentally challenged women and organize, manage, administer and provide shelter, food and clothes for such people as mentioned in the vision so that through loving care and medication, they may regain. An amount of Rs. 60,000/- was raised and supported the inmates towards food, medicines and provisions. We were 76 students and 10 faculty members, and students presented a colorful cultural program involving the inmates. It was a soulful experience that remains meaningful and memorable for all the right reasons.
Electrification of houses for BPL families
Illumina has given a new dimension to social commitment utilizing the technical expertise of its staff members and students to help BPL families in electrifying their houses. Altogether four houses situated near Vattapara and Kallayam were electrified on 17th February 2017. Electrification of two houses was sponsored by Prof M.K. Giridharan and Prof. B. Prasannakumari. Studies and remaining were funded by the association.
This work was completed with the support of members of technical staff Mr. Rajeevmon S., Mr. Senthil Kumar E, Mr. Ratheesh G R, Mr. Ratheesh Kumar V S and Mr. Sajan S S.
Switching on of 4 houses was done on 2 March 2017 in presence of Bursar Fr. Wilson Thattarathundil, Prof. Shajilal A. S., Prof B. Prasannakumari and Ms. Elizabeth Varghese.