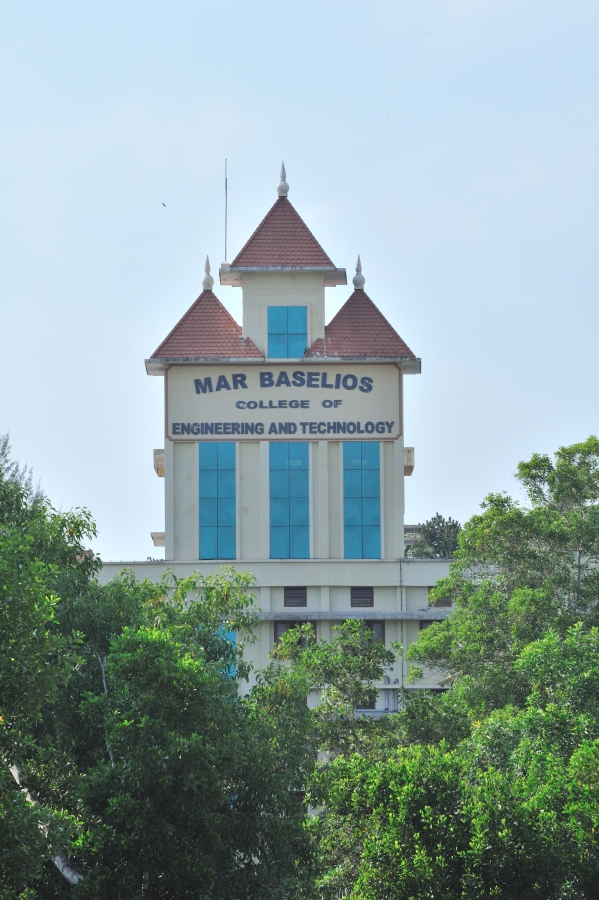 As a proud part of the Mar Ivanios Vidyanagar on the blessed Bethany Hills, deriving the inner strength of truth and goodness from the visionary Patrons, MAR BASELIOS COLLEGE OF ENGINEERING AND TECHNOLOGY (MBCET) inspires the aspirations of generations of knowledge-seekers. Dedicated to mould morally upright, socially committed and intellectually trained Engineers, the College strives to realize its dreams.
The aesthetically designed buildings in nine blocks spread over the campus have a total built-up area of over 32000 sq. m. An eco-friendly infrastructure concept, causing least disturbance to the landscape has been executed. Rain water harvesting has been implemented right from the beginning of the College. Each block is connected by Pedestrian Bridge, retaining the separate entity of each branch of Engineering, Chaitanya – The Administrative block, Thejus – The Academic Block, Nalanda – The Library, Yantra – The Mechanical Engineering Block and Nirmithi – The Civil Engineering Block. Olympia, houses the Amenity Centre, Auditorium, Food Court, Indoor Courts, Gymnasium, Placement Rooms and so on.
Autonomous status to MBCET:
APJ Abdul Kalam Technological University has notified the conferment of autonomous status to MBCET by UGC for a period of 10 years (2020-21 to 2029-30). Autonomy provides greater flexibility to the institution in improving the quality of education towards achieving academic excellence.
As an autonomous college, MBCET will have the freedom to
Determine and prescribe its own courses of study and syllabi, and restructure and redesign the courses to suit local needs
Offer student-centric courses including a wide range of electives with freedom in choice of courses
Regularly update the syllabus in accordance with the evolution of technology, trends in research and changing requirements of the industry
Evolve methods of assessment of students' performance that is well integrated and aligned with the teaching and learning process
Conduct of examinations and notification of results in a timely manner
Promote healthy practices such as community service, extension activities and projects for the benefit of the society
Autonomy provides the opportunity for enhancement in the quality of education and reflects the efforts of the institution for the achievement of excellence in academic performances and self governance. The degree will be awarded to the students by APJ Abdul Kalam Technological University, based on the evaluation and recommendation by the college. The name of the college will be mentioned in the degree certificates.
Management
The Management, through the Governing body, plays a vital role in the policy formulation of the College. The Management gives importance to the formation of morally and spiritually sound professionals with competency and self-confidence so that they can approach the reality of life with optimism. The Management provides all infrastructural facilities as per the requirements for the proper functioning of the Institution.
Governing Body
| | | |
| --- | --- | --- |
| 1. | His Beatitude Moran Mor Baselios Cardinal Cleemis Catholicos, President, Malankara Catholic Education Society of Archdiocese of Thiruvananthapuram, Patron and Manager, MBCET. | Chairman |
| 2. | Prof. Arun Kumar Agrawal, Professor(Retd) IIT BHU | Member, UGC Nominee |
| 3. | Sri. Ajayan C., AS HE, Government of Kerala | Member, Nominee of the Government |
| 4. | Dr. V Suresh Babu, Dean(Research) and Professor(ECE), College of Engineering,  Trivandrum. | Member, Nominee of APJAKTU |
| 5. | Rt. Rev. Msgr. Dr. Mathew Manakarakavil, Chief Vicar General of Major Archdiocese of Thiruvananthapuram of Malankara Catholic Church. | Member |
| 6. | Rev. Fr John Varghese Palanilkunnathil, (Bursar, MBCET) | Member |
| 7. | Rev. Fr Thomas Kayyalackal, Finance Officer of the Major Archdiocese of Thiruvananthapuram of Malankara Catholic Church. | Member |
| 8. | Shri Jacob Punnoose IPS(Retd). | Member |
| 9. | Mr Tony Thomas, Global Chief Digital and Information Officer, Signify, (based out of Amsterdam) | Member |
| 10. | Dr. S. Viswanatha Rao, Vice Principal & Dean(Academic), MBCET. | Member |
| 11. | Dr(Mrs) Neethu Roy, Dean (R&C) & Professor, Department of Civil Engineering, MBCET. | Member |
| 12. | Dr Abraham T Mathew, Principal, MBCET. | Member Secretary |
ACADEMIC COUNCIL
1.
Dr. Abraham T Mathew, Principal
Chairman
2.
Dr. S. Viswanatha Rao, Vice Principal
Member
3.
Dr. Sreelatha G., Professor, ECE, CET, Thiruvananthapuram
Member                              University Representative
4.
Dr. Savier J.S.,  Professor, EEE, CET, Thiruvananthapuram
Member

University Representative

5.
Dr. Ashfak A., Professor, MED, TK College of Engineering, Kollam
Member                            University Representative
6.
Dr. Ayyappan M. Former Director, HLL Lifecare Ltd.
Member                                      GB Nominated
7.
Dr. Ashok S. , Professor, HAG, EED, NIT Calicut
Member

GB Nominated

8.
Dr. Kurien Issac K. Professor, IIST, Thiruvananthapuram
Member                                      GB Nominated
9.
Rev. Dr Gigi Thomas, Dean, Mar Ivanios College
Member                                      GB Nominated
10.
Dr. Shyji S., Assoc. Professor, MED, SCT CE, Thiruvananthapuram
Invitee                            University Representative to PG BoS
11.
Dr. Paul Thomas, Dean(PGSR) & Professor, ECE, MBCET
Member
12.
Dr. Neethu Roy, Dean(R&C) and Professor, CED, MBCET
Member
13.
Dr. Jayasree S., Professor & Head, CED, MBCET
Member
14.
Dr. Tessy Mathew,  Professor & Head, CSED, MBCET
Member
15.
Dr. Jayakumari J.,  Professor & Head, ECED, MBCET
Member
16.
Dr. Nisha G. K., Professor & Head, EED, MBCET
Member
17.
Dr. Rajesh T. N.,  Assoc. Professor & Head, MED, MBCET
Member
18.
Prof. Joseph Cheriyan,  Professor & Head, S&H, MBCET
Member
19.
Dr. K. Muraleedharan Nair,  Dean(Admin) and Professor, MED, MBCET
Member
20.
Dr. Jayashree M. J., Professor, ECED & IQAC Coordinator
Member
21.
Mr. Pradeep M., Assoc. Professor, MED and Controller of Examinations, MBCET
Member
22.
Dr. Swapna P. S., Asst. Professor, ECED, MBCET
Member
23.
Mr. Akhil Raj S. R.  Asst. Professor, CED, MBCET
Member
24.
Dr. Christi Francis, Head, Physical Education
Invitee
25.
Mr. Binu K. John, Librarian, MBCET
Invitee
26.
Dr. Jisha John, Assoc. Professor, CSED
Member Secretary
Advisory Body
Mr John Mathai, IAS(Retd), Former Chief Secretary, Govt of Kerala
Mr Jacob Punnoose, IPS(Retd), former DGP, Kerala
Mr John P Zacharia, Former Director, VSSC, Trivandrum
Dr S Unnikrishna Pillai, Former Principal, REC(NIT) Calicut
Dr Chem Nayar, Emeritus Professor, Curtin University, Australia
Dr Vijayan K Asari, Professor, University of Dayton, Ohio, USA
Dr Achuthsankar S Nair, Head, Dept Computational Biology & Bioinformatics,University of Kerala
Dr Saji Gopinath, Professor, IIM Kozhikode
Mr Alexander Varghese, Chief Administrative Officer, UST Global, Technopark,Trivandrum
Mr Jayan P Nair, Senior Vice President, IBS Software Services, Technopark,Trivandrum
Mr Rajesh Nair, CTO and Founder, Degree Controls Inc., USA
MBCET Highlights
Stands among the top tier Engineering College in Kerala
Training and Placement Unit for Placement support and Soft Skill Training.
Due importance to Arts & Sports. First runner-up in Kerala University Youth Festival competitions in 2017.
MOU with National, International Institution/MNCs such as Infosys, HLL, IBS and UST Global for Technology transfer and Faculty/Student Training.
Frequent National and International Conferences for dissemination of knowledge and ideas.
Dr. APJ Abdul Kalam Centre for Incubation, innovation & Entrepreneurship.
Partners of VSSC for Testing Space Craft Electronic Packages
Digital Library with OPAC.
Vibrant eco-friendly green Campus, with Rain water Harvesting facility.
200 kW of Solar Power Plant – Grid Connected with Net Metering Facility.
Many ISR Initiatives
Active student branches of Professional Societies.
Effective student advisory System.
Winners of National & International Project Competitions.
Multi-media/Smart Class Rooms & Seminar Halls
A host of proficiency Awards, Merit Awards…
College Council
Rev Fr John Varghese Palanilkunnathil, Bursar
Dr. Abraham T. Mathew, Principal
Dr. S Viswanatha Rao, Vice Principal and Dean (Academic Affairs-UG), MBCET Faculty representative
Dr. Paul Thomas, Dean (PG Studies & Research)
Dr. Neethu Roy, Dean (R&C) & Prof.CED, MBCET Faculty Representative
Dr. George Zacharia, Dean (Student Affairs), NAAC Coordinator
Dr. K Muraleedharan Nair (Dean – Administration)
Dr. Pradeep M (Controller of Examinations)
Dr. M J Jayashree, IQAC Coordinator
Prof. Joseph Cheriyan, HOD S&H
Dr. Jayasree S, HOD CE
Dr. Tessy Mathew, HOD CSE
Dr. Jayakumari J, HOD ECE
Dr. Nisha G K, HOD EEE, Camp Officer – KTU Valuation
Dr. Rajesh T N, HOD ME
Dr. Christi Francis, HOD PE
Prof. Raju K Gopal, Head, ITMS
Ms. Elizabeth Varghese, Admission-in-charge
Ms. Asha S, (KTU & Exams)
Dr. Archana P Das, First Year Coordinator
Ms. Lakshmy S, Coordinator-Statutory Approvals
Ms. Jomole Joseph P, Member Secretary