Outreach
Department of Computer Science & Engineering Association (ACE) Activities
As part of Community Extension Programme in association with World Vision a team of faculties from the department visited "Chengal choola" housing colony, near Secretariat and Plamood "Bund colony" near Pattom on 20th August 2016. The visit was mainly indented to get a first- hand knowledge of the educational facilities available to children living there. The visits and discussions with the parents, social service volunteers and children were facilitated by the representatives of the N.G.O.: "World Vision". As an extension to this, a team of staff and students visited two communities- Chengal Choola and Poonthura on Feb 18,2017 and conducted various events to motivate the students.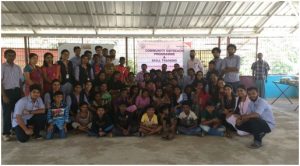 Department of Electrical & Electronics Engineering Association (Illumina ) Activities
Electrification of houses for BPL families
Illumina has given a new dimension to social commitment utilizing the technical expertise of its staff members and students to help BPL families in electrifying their houses. Altogether four houses situated near Vattapara and Kallayam were electrified on 17th February 2017. Electrification of two houses was sponsored by Prof M.K. Giridharan and Prof. B. Prasannakumari. Studies and remaining were funded by the association.
This work was completed with the support of technical staffs Mr. Rajeevmon S, Mr. Senthil Kumar E, Mr. Ratheesh G R, Mr. Ratheesh Kumar V S and Mr. Sajan S S.
Switching ON of 4 houses was done on 2nd March 2017 in presence of Fr. Wilson Thattarathundil- Bursar, Prof. Shajilal A S, Prof B. Prasannakumari and Ms. Elizabeth Varghese.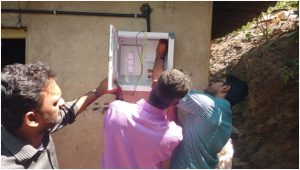 GREEN DREAM
Green Dream, a movement conceived by a group of MBCET students and propagated by members of IEEE MBCET, aims to adopt measures that will lead towards a greener world. The movement has been highly appreciated by Mr.Binoy Viswam, Minister for forests and also by visual media like Asianet, ACV and Kairali.
The concept of GreenDream has got national recognition, among various eco clubs and networks. Mr.Arun Raj (2009 batch) was among the four representatives from India selected for the World Youth Meet on renewable resources organized by the Portuguese Government.