Library
The mission of the Central Library is to facilitate creation of new knowledge through acquisition, organization and dissemination of knowledge resources and providing for value added services.
The library has an excellent collection of books, journals and non-book materials in Science, Engineering, Technology, Humanities, Social science and Management. It maintains separate collections of Reference Books, standard, bound volumes of Journals, Technical Reports, previous question papers, CD-ROMSs, DVDs, Periodicals, etc. At present, the library has a collection of around 9180 titles and 23310 volumes of books, Reports and Reference material. Besides standard textbooks, the library contains books of literature and general interest.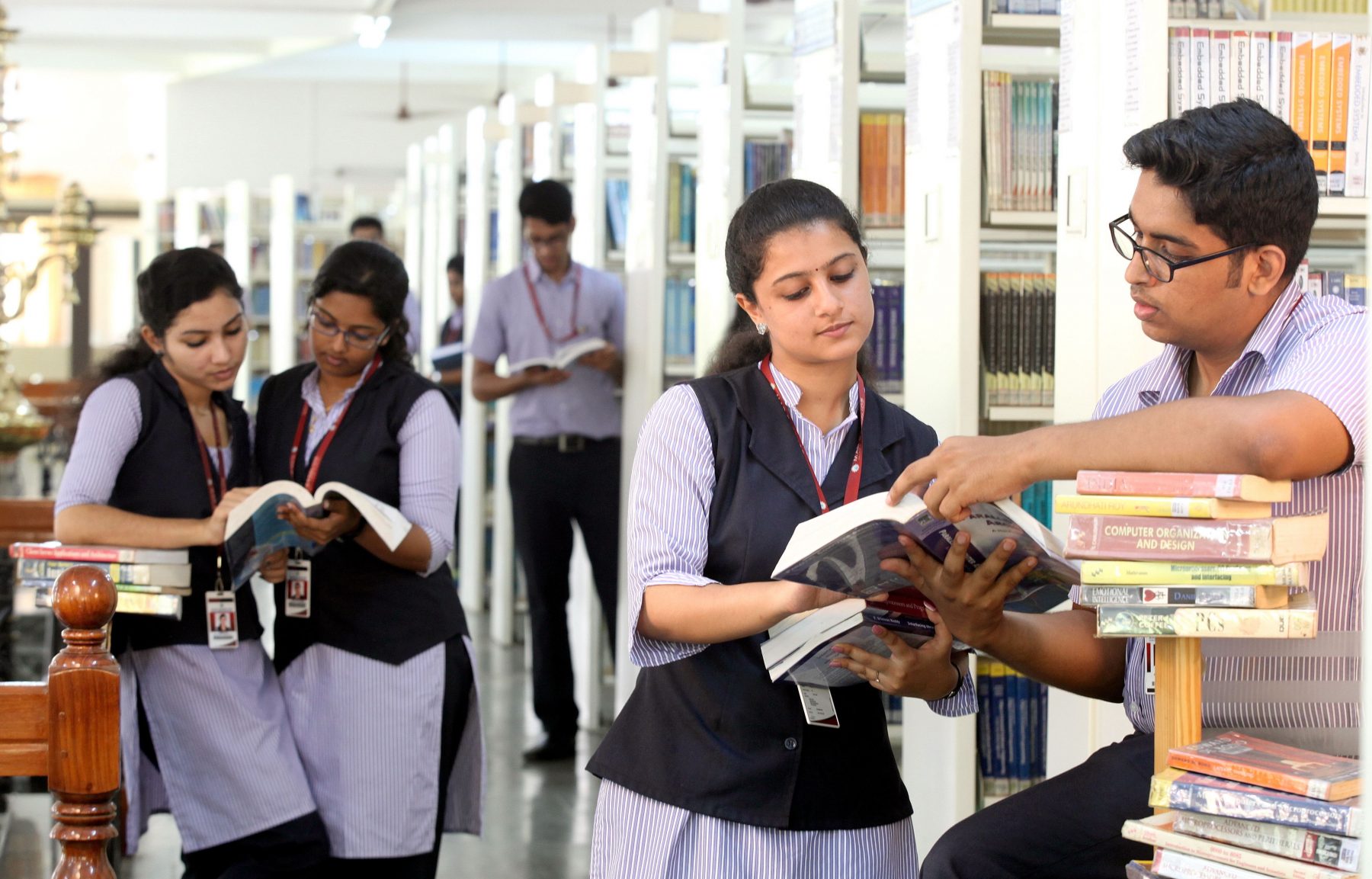 Books are classified and arranged as per Dewy Decimal Classification (DDC), so that members can locate books easily. The library is digitalized and operates on Libsoft software. In addition to the Central Library, there are Departmental Libraries for all Departments which are automated using KOHA OSS. The library is completely computerized and the circulation is based on barcode system. The MBCET library is an Institutional Member of AICTE-INDEST (Indian National Digital Library in Engineering, Science and Technology) consortium.
Apart from the conventional library, there exists a digital library which contains sufficient digital documents such as E-books, E-Journals, Technical Reports, Project Reports, etc. The library has access to around 96 National Journals. The MBCET library renewed access to the 4 set E-journal packages viz. IEL Online (IEEE), Elsevier's Science Direct, ASCE and ASME. The above E-resources can be accessed through the campus-wide fiber-optic network to all computers and Wi-Fi enabled laptops in the Institute. i.e., No User-ID & Password needed for accessing full text. There is no limit on the number of concurrent users or the number of downloads including IEL Online (IEEE).
The important library services are:
•  DSpace Digital Repository
•  Reprographic Facility
•  Library Instruction Classes
•  SDI – Selective Dissemination Information
•  CAS – Current Awareness Service
•  OPAC – Online Public Access Catalogue
•  On demand literature search
•  MBCET Central Library Catalogue
•  Engineering, Science & Technology Resources Portal
•  MBCET Library subscribing E-Journals
•  MBCET Department Libraries Catalogue @ MBCET LAN
•  NPTEL Video Lectures @ MBCET LAN
•  Digital Library – DSpace @ MBCET LAN : Theses and dissertations
•  Institutional Digital Depository (IDR)
•  Online access to E-Resources
Borrowing Facility
| Category | Type | No of Books | Time |
| --- | --- | --- | --- |
| Students | B.Tech | 3 | 14 days |
| Students | M.Tech | 4 | 20 days |
| Faculty | | 6 | 4 months/ Last working day of the semester |
| Administrative Staff | | 2 | 4 months |
Library Timings
| | |
| --- | --- |
| Monday to Friday | 8.30 a.m. to 6.00 p.m. |
| Saturday | 9.00 a.m to 4.00 p.m. |
Library Team
| Post | Name | Qualification |
| --- | --- | --- |
| Librarian | Mr. Binu K John | B.Sc., M.L.I.Sc., M.Phil., PGDCA, NET |
| Asst. Librarian | Ms. Anjana G | B.Sc., M.L.I.Sc. |
| Asst. Librarian | Mr. Sambhu B. K | B.Com, M.L.I.Sc |
| Library Assistant | Mr. Sabeesh.T | B.A., M.L.I.Sc |
| Office Assistant | Ms. Sherin Mary Joseph | B.Com, PGDCA |