IET
THE IET-MBCET ON CAMPUS CHAPTER was re-inaugurated on 23rd Aug'16, with 60 new Student members and 2 Faculty members from Dept. of EEE. Since then, the chapter has grown to be a driving force for many young aspiring engineers in and around Trivandrum, providing quality opportunities. The Faculty members have increased to 6 and Ms. Jomole Joseph (Asst. Professor) is the On Campus Facilitator of the chapter. The chapter has around 200 members from EEE, ECE, CSE and ME streams and is an integral part of IET Kanyakumari Local Network since its induction.
The chapter has been very active and successful in conducting technical workshops, talks by eminent personalities, internships, techno-cultural fests, etc.
Annual Report
The IET Ingress selection process was done through a set of two interviews and a few offline sessions. The process started on the 17th of may and extended till the 2nd of june. Throught this time period, interviews and offline sessions were conducted. The announcement of the result was on the 5th of june with Sanna Pramod from the department of computer science leading the team as the chairperson. The team is advised by Soumya A.V from the electrical and electronics department. The present team is bustling with ideas and they are planning a quiz program accompanied by an offline session for students from various schools as an outreach program.
 IET MBCET Office Bearers (2022-2023) 
Chairperson – Sanna Pramod (S7 CSE)
Vice Chairperson – Diya Mariam Biju (S7 CSE)
Secretary – ARGHYA P S (S7 ME)
Joint-secretary – Revand S (S5 CSE)
Treasurer – Jovan Mathew Thomas (S5 ME)
Joint Treasurer – Aparna S (S5 EEE)
PR Team Head – Terrin Mary Stephen (S7 ECE)
PR Team Co Head – Gouripriya S A (S7 CSE)
PR Team Co Head – Abhiram Krishna R S (S5  ECE)
Designer – Jithin Aniyankunju  (S7 CSE)
Designer – Alenso Rooby (S7 ECE)
Community Outreach Head – Shivani Sivaram (S7 CE)
Community Outreach Sub Head – Malavika A S (S5 CE)
IET MBCET Office Bearers (2021-2022)
| | |
| --- | --- |
| Chairperson | Vaibhav K (S6 ECE) |
| Vice Chairperson | Rahul Sunil (S6 CSE) |
| Secretary | Anandhu Rajesh (S6 ECE) |
| Joint-secretary | Karthik Pradeep P (S6 ECE) |
| Treasurer | Devika M. M (S6 EEE) |
| Joint Treasurer | Megha M B (S6 CSE) |
| Creative Office | Mohammed Shahan (S6 CSE) |
| Social Media Manager | Anashwara Binod (S6 ME) |
IET KKLN Awards
The IET Kanyakumari Local Network Awards declared.
Best On Campus Faculty Advisor Award
Ms. Jomole Joseph,
IET KKLN Man Engineer Award
Mr. Aravind A. (Alumni, 2016-20)
IET KKLN Woman Engineer Award
Ms. Sanjna Pramod (Alumni, 2016-20)
Outstanding Engineer Award
Mr. William George, S7 ME
Ms. Deepthi G A, S7 ECE
Gladiator Award
Mr. Noel Mathew Jacob, S7 EEE
Shining Star Award
Mr. Balu Bijubal, S7 EEE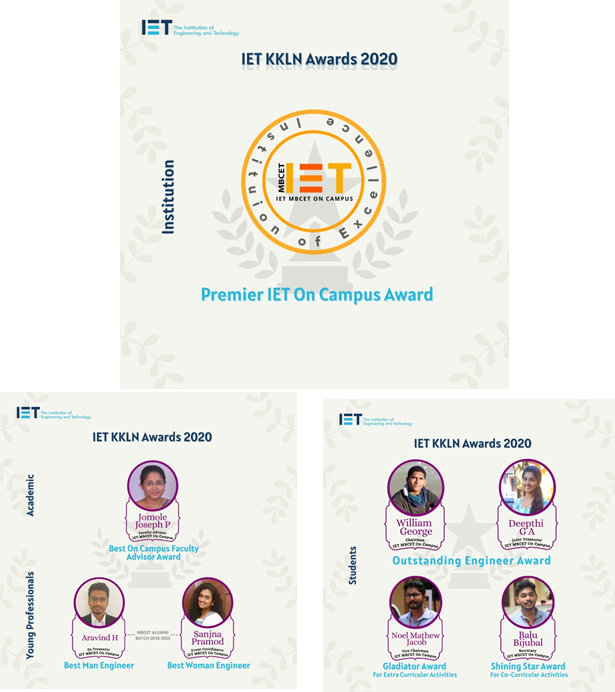 IET Flagship Events
IET Outreach 150
On 3rd December 2020, the IET MBCET On Campus crossed a new milestone, with the signing of the MoU between MBCET and Vydyuthi Energy Services for the collaborative venture of IET Outreach 150.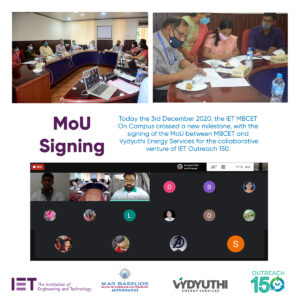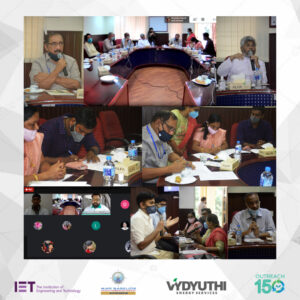 Nexuz 2019
NEXUZ'19, The 2 day International Summit on Applications of Engineering in Sports was conducted on the postponed dates of 11th & 12th October, 2019, owing to the flood condition of the State in August (the initial dates were August 16th & 17th, 2019). It was jointly organized by MBCET and LNCPE (Lakshmibai National College of Physical Education, Kariavattom).
FINE TUNE TALKS
IET organizes Fine Tune Talks, a talk series that aims in grooming and personal branding of a student thus providing a kickstart to one's professional life.
A series of personality development talks were conducted by IET MBCET On Campus and TENSORZ Club, in order to impart sound knowledge in the aspect of Personality Development. This 3-day event witnessed a turn-over of 350+ students and faculty, who were benefited by the experience of the speakers who are now Alumni (2016-20 Batch).
The speakers were:

Joseph John Panicker (EEE) on 19.09.2020 – Topic: Acing an Interview
Ashwini A Kammath (EEE) on 20.09.2020 – Topic: Creating a Resume.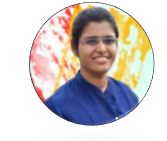 Gouri A V (ECE) on 21.09.2020 -Topic: Branding Yourself
Mr. Tom Thomas Theckel who has served as the Facilitator, Lead Training Consultant and is the regional leader for VIVO India delivered a talk on How to Stand Out in a Group Discussion on 17 February 2021 from 3:00 PM to 4:00 PM in Google Meet. The Webinar was open to first year students of Department of Electrical and Electronics Engineering.
Faculty coordinators: Ms. Ashni Elisa George and Ms. Shilpa Susan Peter, Assistant Professors, EEE.
Student Coordinators: Mr. Vaibhav (S5 ECE) and Ms. Anashwara Binod (S5 ME).
Given below is an infographic of the events conducted since its inception in 2016, description about few of the recent events and the accolades the On Campus Chapter and its members received.