IET
THE IET-MBCET ON CAMPUS CHAPTER was re-inaugurated on 23rd Aug'16, with 60 new Student members and 2 Faculty members from Dept. of EEE. Since then, the chapter has grown to be a driving force for many young aspiring engineers in and around Trivandrum, providing quality opportunities. The Faculty members have increased to 6 and Ms. Jomole Joseph (Asst. Professor) is the On Campus Facilitator of the chapter. The chapter has around 200 members from EEE, ECE, CSE and ME streams and is an integral part of IET Kanyakumari Local Network since its induction.
The chapter has been very active and successful in conducting technical workshops, talks by eminent personalities, internships, techno-cultural fests, etc.
Annual Report
IET KKLN Awards
The IET Kanyakumari Local Network Awards declared.
Best On Campus Faculty Advisor Award
Ms. Jomole Joseph,
IET KKLN Man Engineer Award
Mr. Aravind A. (Alumni, 2016-20)
IET KKLN Woman Engineer Award
Ms. Sanjna Pramod (Alumni, 2016-20)
Outstanding Engineer Award
Mr. William George, S7 ME
Ms. Deepthi G A, S7 ECE
Gladiator Award
Mr. Noel Mathew Jacob, S7 EEE
Shining Star Award
Mr. Balu Bijubal, S7 EEE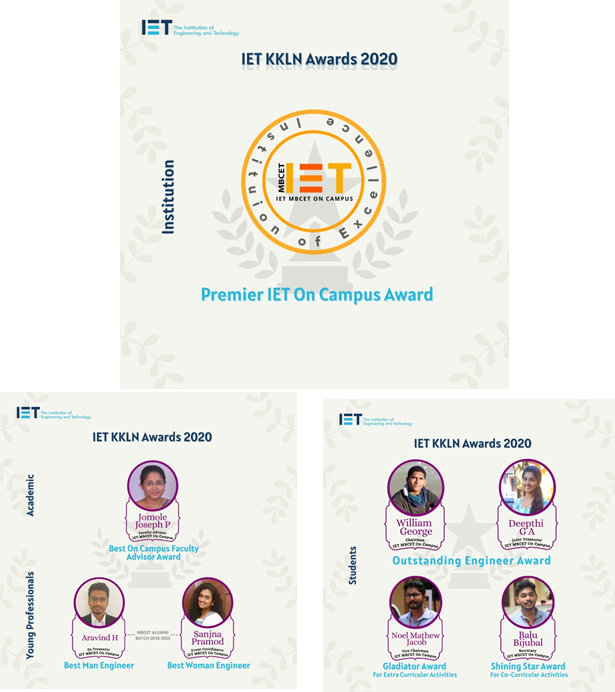 IET Flagship Events
On 3rd December 2020, the IET MBCET On Campus crossed a new milestone, with the signing of the MoU between MBCET and Vydyuthi Energy Services for the collaborative venture of IET Outreach 150.
NEXUZ'19, The 2 day International Summit on Applications of Engineering in Sports was conducted on the postponed dates of 11th & 12th October, 2019, owing to the flood condition of the State in August (the initial dates were August 16th & 17th, 2019). It was jointly organized by MBCET and LNCPE (Lakshmibai National College of Physical Education, Kariavattom).
FINE TUNE TALKS
Given below is an infographic of the events conducted since its inception in 2016, description about few of the recent events and the accolades the On Campus Chapter and its members received.