Distinguished Alumni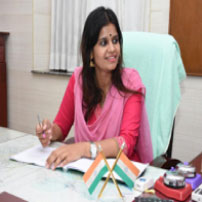 Ms.Gayathri Krishnan
C.S.E( 2002-2006 )
Cleared civil service exam and works as Sub Collector, Pollachi, TN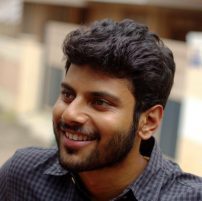 Mr.Ramit Chennithala
CSE 2010-2014
Secured IRS in 2017.Presently works as Asst.Commissioner,Income Tax.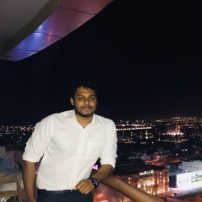 Mr,Fariq Naushad
CSE2011-2015
Cofounder & Business Head of Teczium Solutions LTD  (Headquarters in Rwanda & operations in Kenya, South Africa , Ethiopia & Zambia ) 
He was shorlisted among the best 5 in the country for the young entrepreneur category for Rwanda Business Excellency Awards (2017) .
Current Position – Cofounder & CEO Invento Technology Solutions Pvt.LTD , India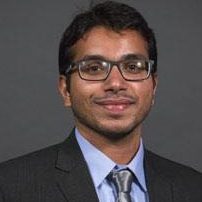 Mr.Ben John
CSE 2007-2011
M.Tech in Computer Technology  from
Indian Institute of Technology Delhi  and
MS Quantitative Finance from University of Maryland College Park.
Current position :
Citibank NA
Vice President 
Credit Portfolio Sr Analyst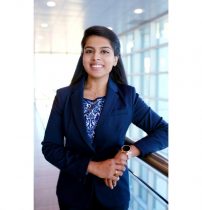 Ms.Arathy Krishnan
B.Tech ,IT,First rank (University of Kerala). M.S in Information Technology and Management from the University of Texas at Dallas, USA .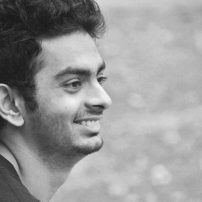 Mr.Abhijith V
C.S.E 2013-2017
Associate Project Manager, Old Trafford, United Kingdom.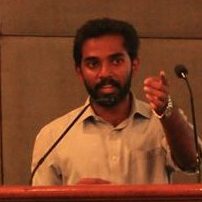 Mr.Savio Victor
CSE 2012-2016
Co-founded NEUROPLEX.Their product 'Eyes Age', a video intelligence software ,is used in partnership with Kerala Police.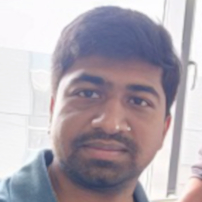 Mr. Vishnu Anilkumar
C.S.E 2007-2011
MS in Computer science and is continuing as research assistant in the field of parallel computing in Technical university of Munich.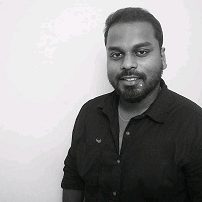 Mr.Alfred Eby Isaac
CSE 2007-2011
Semi-Finalist of Gandharva Sangeetham, Kairali TV and one of the finalist in Superstar 2,Amrita TV.
Play back singer in movies Solo,Roseguitarinal
Presently performs in noted music bands.
Fm radio professional for 6 years
Mr. Pradeep Krishnan
MS in Computer Science from University at buffalo,State university of New York .
Presently ,Escalation Engineer at Netskope.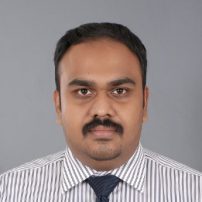 Mr.Arun Chand V
CSE (2002-2006)
Works as Principal Consultant at IBS Software Services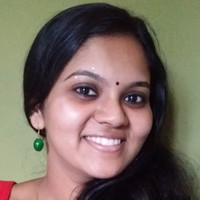 Ms.Swathy Suresh
CSE (2009-2013)
Senior Software Engineer at Teradata India Pvt Ltd.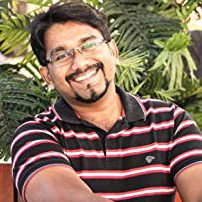 Mr.SajuAsokan
CSE(2003-2007)
Project lead, Java, Fusion Applications devp.Oracle,India.
Mr.Sreedish P.S
CSE(2004-2008)
Software Development engineer,R&D,Microsoft India.
Mr.Ajith Kumar G.S
CSE(2007-11)
Technical Director, Genilok Computer Solutions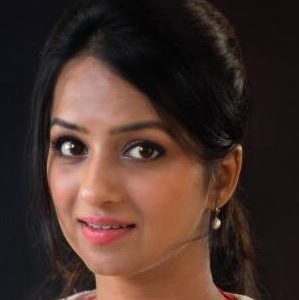 Ms. Sajna Samad
ECE (2002-2006)
Supply chain consultant, Oracle,
Mr. Shankar R.
ECE (2002-2006)
Global Head of Marketing & Partnerships for Transportation, Tata Elxsi,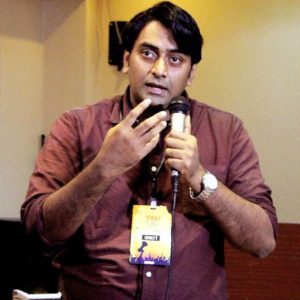 Mr. Shibu Shajahan
ECE (2003-2007)
General Manager in Al TAJ Electronics, President of the Youth wing of World Malayalee Council, Middle East Region Chairperson of MBCETAA Middle East.,
Dr. Sherin B. M
ECE (2003-2007)
Scientist B, Kerala State Council for Science Technology and Environment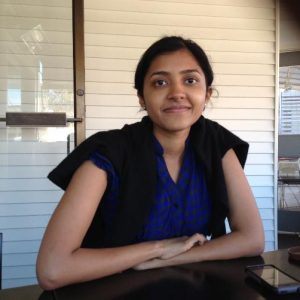 Ms. Elza John
ECE (2003-2007)
Senior Training Engineer at MathWorks
Ms. Shajeena Shahul Hameed
ECE(2004-2008)
Manager SQASFO Technologies, NeST Group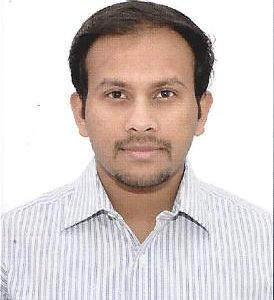 Ms. Arun Raj
ECE(2005-2009)
Senior Product Manager, Pramata Knowledge Solutions
Mr. Varun Raj
ECE(2005-2009)
Director – Global Enterprise Business, Exotel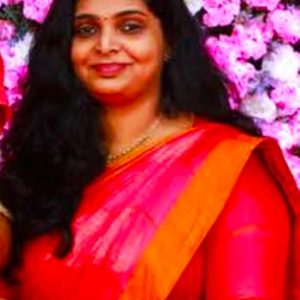 Ms. Anita Oommen
ECE(2005-2009)
Project lead for hardware department, Vinvish Technologies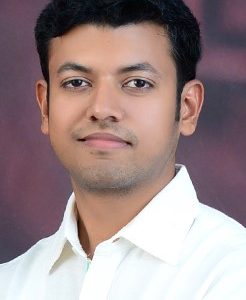 Mr. Nijo Varghese
ECE (2006-2010)
(IIS), Deputy Director, Ministry of I&B, New Delhi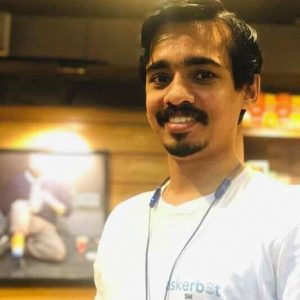 Mr. Sanju Mathew
ECE (2007-2011)
CEO, Code of Duty Innovations, Pvt Ltd
Mr. Renjith Henry
ECE (2007-2011)
Squadron Leader in IAF,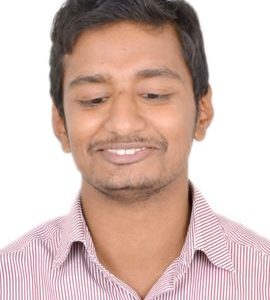 Mr. Jerrin Thomas Panachakel
ECE (2008-2012)
Pursuing PhD in IISC,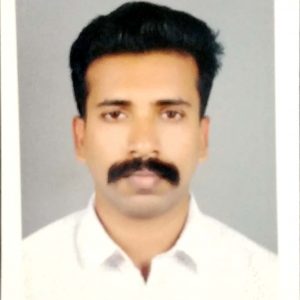 Mr. Ajay Thomas Mathew
ECE(2009-2013)
Executive officer, Ministry of Home Affair,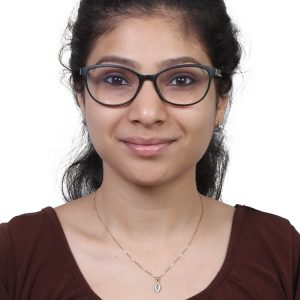 Ms. Gopika M. S
ECE(2011- 2015)
Insights Analyst, LinkedIn,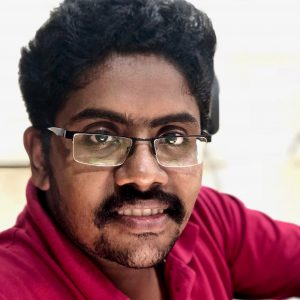 Mr. Joji John Varghese
ECE (2012- 2016)
Junior Project Fellow in SSPACE (Small Space-Craft Systems and
Payload Centre) Lab in IIST. Responsible for the Design and Development of Nano-
Satellite Subsystems, Engineer for Design of In-house State of the Art VHF, UHF & S-
Band Telemetry /Telecommand Ground Station, Systems Engineer for AAReST Mission
(Autonomous Assembly of Reconfigurable Space Telescope),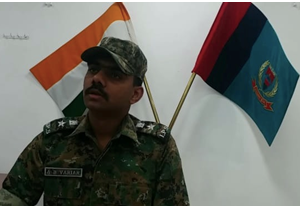 Mr. Akhilesh Variar
ME (2005-2009)
Akhilesh Variar was a researcher at a think tank in New Delhi where he worked on Chinese economy, foreign policy and international water disputes with Pakistan. Having appeared for the Civil services exam in 2011, he qualified in 2012 and joined the Indian Police Service (IPS). Borne to the Jharkhand Cadre, he has served in different districts of West SInghbhum, Giridih and Chatra where he is currently the Superintendent of Police, dealing with left wing extremism, crime control, public order, narcotics and development security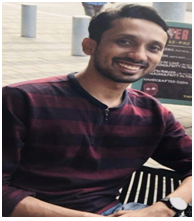 Mr. Alen Aloysius
ME (2005-2009)
Alen Aloysius worked as Systems Engineering at Infosys till 2012. In 2012 he qualified CAT with a score of 98.47 percentile, following which he joined for Post Graduate Diploma in Industrial Management from National Institute of Industrial Engineering. In 2015 he joined Kotak Mahindra Bank and presently he is designated as Senior Product Manager- Mobile Banking. He is the product head of Kotak Mahindra Mobile banking App which has a rating of 4.5 in Google play store and 4.8 in Apple store. He has Made it to the Economic Times Young Leaders list 2017.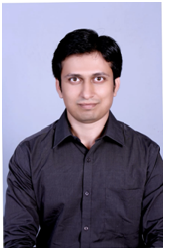 Mr. Siddharth G
ME (2005-2009)
Siddharth G worked as Systems Engineering at Infosys till 2012. He joined for Masters at College of Engineering Trivandrum. In 2013 he joined as Scientist/Engineer at Indian Space Research Organization (ISRO). Presently working as scientist/engineer 'SD' at  Quality Control Division, MVIT,VSSC Trivandrum ISRO.
Mr.Rachin UR
ME (2005-2009)
Rachin UR joined AMW Motors ltd as Design Engineer. In April 2012 he got promoted as Assistant Manager at AMW Motors ltd R&D. In 2014 he joined TATA Motors ltd, ERC, Pune as Manager. In 2017 he joined Mahindra Research Valley as Senior Design Engineer in vehicle integration department
Mr. Vishak Subramanian
ME (2005-2009)
Vishak Subramanian is a successful entrepreneur and owner of production company Merryland cinemas and Sreevisakh creations. He leads a film production unit name Fantastic films in association with cine actors Aju Varghese and Dhyan Sreenivasan. First film Love Action Drama
Mr.Rajaram R
ME (2006-2010)
Rajaram R has worked as Area manager- Trade marketing in Wipro Consumer Care and Lightning till 2015. After which he joined TI Cycle of India as Associate Brand Manager – Hercules/ Bsa Roadsters. He received the "Pride of Murugappa award" (Group level award where 28 business units compete) for the best Digital Marketing and Communications manager in the group for year 2017. He was Promoted to Pan India Brand Manager (Hercules Roadeo).  Presently he is employed as Senior Manager (Performance Marketing & Digital Consumer Experience) In Flipkart India Pvt. Limited (Walmart India)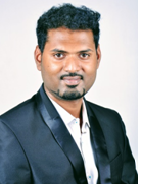 Mr. Gokul V Nath
ME (2006-2010)
Gokul V Nath started his career in robotics starting with a project he did during his college days on amphibian robot. That project was selected in national and international competitions, which helped him to build his startup to one of the most promising startups in the country. Their innovative product Gojal [smart sustainable water management system based on IOT] gained national and international attention among industrial experts. They installed the device for several clients in India and abroad, which includes Delhi metro railway corporation [DMRC], cochin metro railway limited [KMRL] and static company Maldivies. He also bagged a national award from the Indian railway minister shri.Suresh Prabhu for installing gojal in KMRL.  He has also attended a management development program in IIM-K in 2018. He is currently developing his dream project and looks forward to revolutionize robotics
Flt Lt Joseph Koshy
ME (2009-2013)
Flt Lt Joseph Koshy joined Air Force Academy Dundigal Hyderabad. All were given option to choose from the three streams of Fighters Transports and Helicopters. And being inspired by the Operational Exposure he chose Helicopters. He trained in French made Aérospatiale Alouette III in HTS Helicopter training School. Hyderabad. Thereafter in 2014 got commissioned into the Air Force and further went to train in Russian made Mil Mi8 at Bangalore, Karnataka and advanced training in Russian made Mi17v5 at UP. Thereafter was posted to Srinagar J&K. Where in he flew extensively in support of Army and various missions ranging from escalated tensions between neighbors and also in the high altitude inhospitable region of Siachen.
He got posted to Sulur Coimbatore in 2018 and is part of Helicopter unit which handles all operations in the southern peninsula. He was a part of Op Karuna, i.e Kerala Floods and got deployed in Pathanamthitta district.
Lieutenant Commander Reuben S Jones
ME (2008-2012)
Lieutenant Commander Reuben S Jones Cleared UGC NET JRF in 2012 and has worked as a Maintenance Engineer in MRF Ltd. Was involved in fabrication, production and maintenance wing of its fully automised plant at Ankenpally, Hyderabad.Having cleared Staff Selection Board (SSB) in 2013, he was inducted as a Pilot into the aviation cadre of The Indian Navy as a Commissioned Officer. An alumini of The Indian Naval Academy and was trained in Air Force Academy, he was deployed in various missions in both Western and Eastern Fleets. Has been part of dignitaries to foreign establishments carrying out roles of benign, constabulary and diplomatic in nature.He has served in various Major and Minor Warships at Mumbai, Visakhapatnam, Kochi and Porbander carrying out various duties. Presently serving as Second-in-Command of a Naval Warship.A passionate musician, loves travelling and involves in adventure sports. His interests include squash, basketball and debates
Mr. Ashin Xavier Philip
ME (2008-2012)
Ashin Xavier Philip joined KSEB Ltd as Assistant engineer. He represented and captained the  National team, KSEB team, Senior states team in various tournaments. He is currently working at the Chief Engineer, Civil – (Investigation and Construction Central)Department, KSEB Ltd at Thiruvananthapuram. His duties involve the investigation and identification of hydro power potential in Kerala state. For his professional empowerment he is currently pursuing AMIE in Civil Engineering. His passion for the game and studies still remain as an epitome for all the Baselians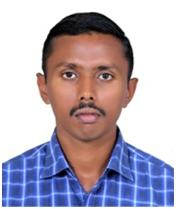 Mr. Nijo Wilson
ME (2008-2012)
Nijo Wilson worked as graduate intern in (ANERT) Agency for Non conventional Energy and Renewable Technology, Dept. of Power, Govt. of Kerala for a period of around 4 months. Works included tender preparation and compilation of project proposals for new standalone and grid connected solar photovoltaic (SPV) system.Site visits to make project proposals for new SPV systems in kannur collectorate, Medical college trivandrum and some other government schools/buildings, checking SPV systems and solar water heaters for clearing issuance of subsidies​ after installation by various dealers. In 2013, Joined School of Engineering, Cochin University of Science and Technology for M. tech in Mechanical Engineering (Thermal).
In 2014 Joined as Engineer/Officer Technical in Bank Note Paper Mill India Pvt. Ltd. [a 50:50 Joint venture of Security Printing and Minting Corporation of India (under ministry of Finance, Govt. of India) and Bharathiya Reserve Bank Note Mudran Private Limited (a subsidiary of Reserve Bank of India)] a special purpose vehicle created for indigenous production of Bank Note Paper in India.
Works included
a) supervision of erection, testing and commissioning of utilities like HVAC, Fire protection system, Pipeline works and Effluent Treatment Plant (Zero liquid Discharge -ZLD plant).
b) Took up and completed project on multi effect evaporator (MEE) in BNPM to complete the M. Tech degree requirements in 2017.
c) Currently dealing with operation, maintenance and process improvement activities of effluent treatment plant (ETP).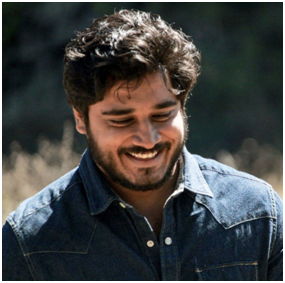 Mr. Aravind GP
ME (2008-2012)
Aravind GP did his post-graduation in Turbomachines from National Institute of Technology, Surat. Worked in the area of High-pressure ratio airfoils and designed a High Pressure Ratio Airfoil from an existing CDA Airfoil, by parameterization and Optimization using Genetic Algorithm. The existing CDA can withstand up to pressure ratio of 1.4. By using this method up to 3.0 pressure ratio is obtained with low total pressure loss coefficient and without any flow separation. Successfully completed MTech with 2nd rank.
Now pursuing PhD in Computational Fluid Dynamics from Indian Institute of Space Science and Technology. Mainly working in the area of Heat and Mass Transfer Enhancement Studies in High Speed Flows. Mass transfer enhancement is often achieved by generating secondary flows, reducing boundary layer thickness, flow manipulation, and swirling motion that develop favorable gradients. Novel methods for improving convective mass transfer in high-speed flows are essential due to its inherent shortage of residence time.
Published several technical papers in reputed international journals and international conferences.  International Journal of Heat and Mass Transfer, International Journal of Thermal Sciences,  4th Thermal and Fluids Engineering Conference (TFEC), April 14-17, 2019, Las Vegas, Nevada, USA, International Symposium on Advances in Computational Heat Transfer, May 28 – June 1, 2017, Napoli, Italy and 15th Asian Congress on Fluid Mechanics, organized by Institution of Engineers, Malaysia, Nov 21-23, 2016 are some. Other interests include travelling photography and reading
Mr. Prabin K C
ME (2008-2012)
Prabin K C worked as MEP site engineer for  Marriott hotel project with a  consultancy. Cleared RRB/JE  2014 exam and joined railways in 2015.Currently posted as junior engineer/diesel mechanical at diesel locomotive shed, Erode, Southern railway. Deals with load testing and maintenance of diesel locomotives