Teaching & Learning
Teachers use ICT enabled tools for effective teaching-learning process.
           The College has been emphasizing ICT enabled tools for effective Teaching-Learning process. All the teachers were used to conducting lectures using LCDs and smart boards. But due to the pandemic situation, all the teachers had to quickly adapt to Online Teaching and Learning. The College conducted several training sessions on Online teaching using LMS like Google Classrooms, online assessment methods, recording software and other ICT tools. All the lecture recordings and contents were uploaded on the Subject Google Classrooms. Apart from these initiatives, the teachers also attended workshop on E-Content development using video making and editing software, Camtasia and other screen casting software were also conducted. All the teachers use Google Classroom for their respective subjects. To teach mathematical subjects in online mode, teachers have used various online tools like- whiteboard in Microsoft teams, Jamboard in Google meet, etc. This has made the teaching-learning process more effective and available at any point of the time for all the students.
ICT Tools:
Projectors- Projectors are available in different classrooms/labs
Desktop and Laptops- Arranged at Computer Lab and Faculty cabins all over the campus.
Printers- They are installed at Labs, HOD Cabins and all prominent places.
Photocopier machines – Multifunction printers are available at all prominent places in the institute.
Scanners- Multifunction printers are available at all prominent places.
Seminar Rooms- Seminar halls are equipped with all digital facilities.
Smart Board- 12 smart board is installed in the campus. 8. Auditorium- It is digitally equipped with mike, projector, cameras and computer system.
Online Classes through Zoom, Google Meet, Microsoft Team, Google Classroom)
HackerRank (Online Coding Platform)- inter college competition
MOOC Platform (NPTEL, Coursera, SAP, Udemy, Edx etc)
Digital Library resources
Turnitin (Plagiarism tool)
Use of ICT by Faculty
PowerPoint presentations- Faculties are encouraged to use power-point presentations in their teaching by using LCD's and projectors. They are also equipped by digital library, online search engines and websites to prepare effective presentations.
Industry Connect- Seminar and Conference room are digitally equipped where guest lectures, expert talks and various competitions are regularly organized for students.
Online quiz- Faculties prepare online quiz for students after the completion of each unit with the help of GOOGLE FORMS.
Video Conferencing- Students are counseled with the help of Zoom / Google meet applications.
Video lecture- Recording of video lectures is made available to students for long term learning and future referencing.
Online competitions- Various technical events and management events such as Poster making, Project presentations, quiz, Debates, paper presentations etc. are being organized with the help of various Information Communication Tools.
Workshops- Teachers use various ICT tools for conducting workshops on latest method.
The Teaching and Learning Center (TLC) was formed to inspire, support and strengthen new directions in pedagogy and learning at MBCET.
 The TLC facilitates:
Preparation for Video lectures and courses through structured workshops
Sharing of good teaching practices among faculty members
Innovation in teaching methods by partnering with faculty members
Faculty development through online learning resources and peer learning
TLC Coordinator
Dr. Tessy Mathew, Professor and Head, CSED
Dr. Neethu Roy, Professor and Dean R & D
Committee Members:
Ms. Elizabeth Varghese, Asso. Professor, Dept. of EEE
Ms Shyju Susan Mathew, Asst. Prof., Dept. of EEE
Mr. Arvind P, Asst. Professor, Dept. of ME
Mr Allen K Johnson, Asst. Prof., Dept. of ME
Ms. Kiran Baby , Asst. Prof., Dept. of CSE
Ms Vijitha Robinson, Asst. Prof., Dept. of CSE
Ms. Laksmi S, Asst. Prof., Dept. of ECE
Ms. Bindu Biju, Asst. Prof., Dept. of CE
Dr Jisha  SV, Asst. Prof., Dept. of CE
Dr. Veena Nair, Asst. Prof, Dept. of SH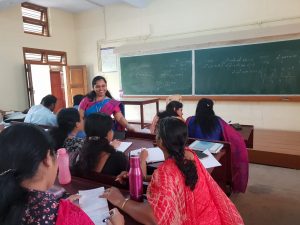 TEACHING LEARNING CENTER,MBCET

 DATE
 WORKSHOP TITLE
 RESOURCE PERSON
 No Of Participants
March 22, 2022, and April 12, 2022
Microteaching Workshop
Dr. K Y Benedict, Principal, Mar Theophilus  Training College, Dr. V. Raghu, Former Director, Rajiv Gandhi National Institute for Youth Development, Swami Gurunandh Jnanathapswi,
30
December 7, 2022
Orientation Program
Prof. S. Viswanatha Rao
33
March 20,2021
Online Training Programme on Course Delivery Cycle
Dr. Edamana Prasad, Professor, Teaching Learning Centre, IIT Madras
25
08/10/2021
Teaching GenZ
Dr. Brijesh Nair Professor and Director (International Affairs & Global Initiatives), O.P. Jindal Global University
30
12/11/2021 20/11/2021
Training Programme on Outcome Based Curriculum (Virtual mode
Prof. Joshua Ernest, Professor (Retdd), NITTTR Bhopal
50
9th November 2021
OBE an overview
Prof. S. Viswanatha Rao
30
1 Nov 2021
Orientation Program
Principal and Vice principal
30
13/08/2021 (Friday)
New Normal New Life: Let Us Bounce Back
Ms Aparna Pavanajan
24
March 23 2021
Seminar on New Challenges and Opportunities for Technical Education in the context of NEP 2020-Importance of Autonomy
Padma Vibhushan Dr G Madhavan Nair, Former Chairman, ISRO
60
21st and 22nd  June 2019
Two day workshop on Integral Education for teachers
Mr. Arul Dev
(Founder CEO of People first Consultants)
34
14th -25th  January 2019
Advanced Engineering Mathematics
Faculty's from S& H
27
23rd July 2018
Teacher a Performing Artist
Dr. Premlet B
(Prof. &Head(Rtd),
Dpt. of Physics, TKM, Kollam)
41
24th July 2018
Creative Leadership in a Rapidly Changing Environment
 Sri. Tom Thekkel
30
19th January 2018
Follow-up session on Teaching Learning
Prof. Edamana Prasad
(IIT Madras)
24
23rd July 2018
Talk on Building world class Institution
Dr M Ayyappan (Chairman & Managing Director of HLL Life care Limited (HLL)(Rtd))
86
24th February 2018
Workshop on Creative Learning: A Proactive approach to student centered Learning
Dr. Premlet B
(Prof. &Head(Rtd), Department of Physics, TKM College of Engineering, Kollam)
37
21st -23rd  April 2017
FDP on Teaching Learning Methodologies( TLC,IIT-Madras)
Prof. Edamana Prasad
Prof. Rajeev Sukumaran (IIT Madras)
31
11th Jan-2017
Talk on Introduction to Research
Prof Devadas Menon
(IIT-Madras)
28
7th –December 2015
One day Training Program(Communication & Teacher Competency, Skill Implementation, Understanding Psychology of the Learner, Student Assessment)
Dr. S Maya,
Dr. Giby Gheevarghese,
Dr. Joju John
(Assistant Professor in Mar Theophilus College, Nalanchira)
Dr. K Y Benedict
(Associate Professor in Mar Theophilus College, Nalanchira)
35