Activities
CESA Activities
TALK ON "FLUID MECHANICS AND WIND ENGINEERING"
CESA organized a talk on "Fluid Mechanics and Wind Engineering" by Dr. Suresh Kumar, Vice President, Global consulting, RWDI, Trivandrum on 11thApril 2019 for B.Tech(Hons)and M.Tech (SE) students.
 TALK ON "PROFESSIONAL ETHICS"
CESA organized a talk on "Professional Ethics" by Dr. AjithPrabhu V, Joint Director, KSCSTE on 3rdApril 2019 for final year B.Tech students.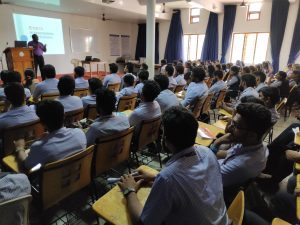 WORLD WATER DAY CELEBRATIONS
As part ofWorld Water Day awareness campaign CESA in association with NatureClub of MBCET an invited talk on the topic "Conserving our Lakes" was conducted at Laurie Baker Hall, Dept. of Civil Engineering on 26 th March 2019by Dr. Suja R, Associate Professor,GEC, Barton Hill. The talk lasted for about an hour and it inspired and mentored many young minds and faculties to take part in water conservation activities.
WORKSHOP ON WATERGEMS
The Civil Engineering Students Association (CESA) organized a one day hands on training on WaterGems on 6/2/2019 during the after session. A total of 18 students from the final year attended the session which was conducted by InterCAD systems.  The session was aligned with the university syllabus and helps students gain knowledge about demand forecasting and supply of water.
The session provided a comprehensive knowledge on decision support tool for water distribution networks, how infrastructure behaves as a system, how it reacts to operational strategies etc.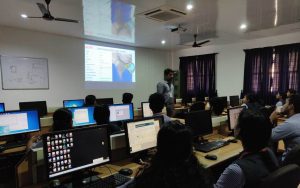 SITE VISIT TO KSEB PRESTRESSING YARD, KOLLANKODE
A one day site visit was arranged for the M.Techstudents on January 16th, 2019to Imperial Trading Company located at Kollengodu, Tamil Nadu. 32 students accompanied by the faculty advisor got a good learning experience regarding the mix, prestressing, casting and curing of electric posts, which serve as the support system of conveying electricity, through overhead cables.
WORKSHOP ON FINITE ELEMENT ANALYSIS OF STRUCTURES USING ANSYS
Department of Civil Engineering, Mar Baselios College of Engineering and Technology (MBCET), Thiruvananthapuram was organized a two days workshop on "Finite Element Analysis of Structures using ANSYS" during January 10 – 11, 2019. Mr. M. S. Prakash, Director RWDI India, was the chief guest on the inaugural day. A total of 43 participants had attended the workshop. The participants are research scholars, M.Tech students and teaching faculties of different Institutions. DrJayasree P. K., Associate Professor, Dept of Civil Engineering, College of Engg Trivandrum, DrAkashRajan, CEO of TIERA Pvt Ltd, MrBobinSaji George, Dept of mechanical Engg, MBCET and DrJisha S. V., Dept of Civil Engineering, MBCET are the resource persons. This workshop was focused on the basic concepts of finite element analysis (FEM) and its application using ANSYS software. Static (linear and nonlinear) and dynamic structural analysis problems were discussed in different sessions. The participants expressed a good opinion about the workshop in the valedictory event.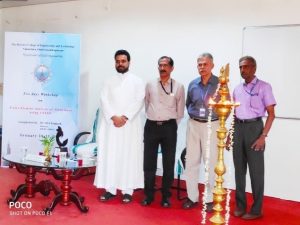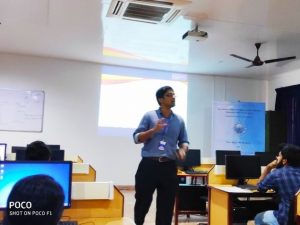 WORKSHOP ON PRIMAVERA P6
A Two Day Training Workshop on "Primavera P6 Contractor" was organized in the Department of Civil Engineering on the 7th and 8th of January, 2019 by InterCAD Systems Pvt. Ltd., Trivandrum. The sessions were handled by two experts from the training centre. The workshop was aimed at understanding computer based Project Management with the help of Primavera P6 contractor which is an advance level software for project management.
Over a course of two days, major lessons on Primavera software were explained to various  participants that included  students and faculty of this department. The training enabled the participants to learn Primavera contractor version, setting preferences, navigating and creating information layouts; how to start a new project and create project roles; how to add and assign resources, create relationships among activities and schedule activities, and various techniques for controlling project performance while generating different reports.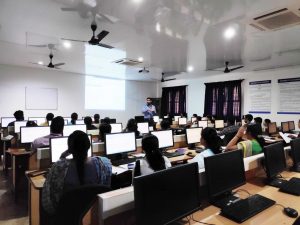 INDIAN SPACE WEEK CELEBRATIONS, 2018
The world space week was observed from october 4th to october 10th, 2018. As part of the world space week celebrations the Civil Engineering Students Association (CESA) of the Department of Civil Engineering, Mar Baselios College of Engineering and Technology, conducted an invited talk on October 8th, 2018. Mr. Rajesh V., Deputy General Manager at the manufacturing sector of materials and mechanical entity, VSSC delivered the talk. 37 students from B.Tech and 18 students from M.Tech attended the session. The talk was followed by an interactive session.
WORLD HABITAT DAY
The United Nations designated the first Monday of October of every year as World Habitat Day to reflect on the state of our towns and cities, and on the basic right of all to adequate shelter. The Day is also intended to remind the world that we all have the power and the responsibility to shape the future of our cities and towns.  The theme for the year was Municipal Solid Waste Management with a slogan 'Waste-wise cities'. As part of the celebration Ar. Reshmi R. of College of Architecture, Trivandrum delivered a talk on the same on October 1, 2018. First year B.Tech students attended the session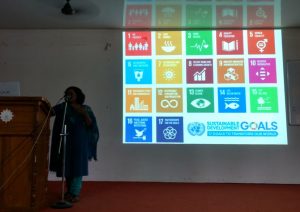 UTBHAV 2018
Utbhav is the annual technical fest of the Department of Civil Engineering, MBCET. In the journey of Utbhav having a span of over 7 years, has come across students from different parts of the country to be a part of over various events. The fund we raise and the profit obtained by this fest will go to THANAL, the charitable organization run by the civil department, from where it will reach the rightful and felicitous ones. Utbhav 2018 was dedicated to remember and honor those people, disabled by strength, but abled by their willpower, the real heroes of sports. Utbhav 2018 was conducted on 14th March 2018 under the co-ordination of final year students and with guidance of teaching staff. The main publicity events carried out by Utbhav team were Photography Workshop, Cake fest and 3's Football. The main technical events in the fest were Crisis Averted, Counter Strike, Symposium, Bob the Builder, Bridge It, CercaTrova, Cric Party, The Arpenteur and Insig. After conducting all activities, the team was able to raise a profit of an amount of 1 lakh rupees which was provided for the needed ones through Thanal.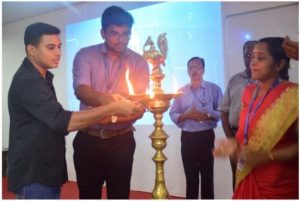 WORKSHOP ON CONCRETE MIX DESIGN
The Civil Engineering Students association (CESA) organized a workshop on Concrete Mix Design in collaboration withQcrete. Hands-on training was given for the then Pre-final year students.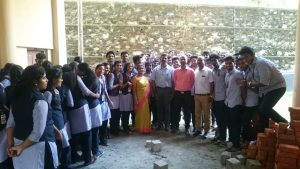 FDP ON "THE PRODUCT DEVELOPMENT OF AN IOT DEVICE"
The program dealt with Product Development process of an IoT (Internet of Things) technology organized by Department of Civil Engineering, Mar Baselios College of Engineering and Technology in association with APJ Abdul Kalam Technological University on 26th to 28th July, 2017. The objective of the program was to develop practical understanding of the engineering applications of emerging technology in fields of Design, Development and Validation. Scope of the program included comprehension of market applications through case study illustrations and acquiring practical experience through hands-on sessions. Targeted to reach out to Faculty of Mechanical, Civil, Electrical and Electronics departments, the program strived to impart solution to academia in integrating trending technology with emerging focus in U. G. Curriculum on Design Thinking and cross-functional product development projects.
 UTBHAV 2017
The annual technical festival of the Department of Civil Engineering, MBCET Utbhav 2k17 was held on 15th March 2017. The fest was inaugurated by S. Aananthakrishnan IPS ADGP Crime Branch. The theme of Utbhav 2k17 was "Breaking Barriers, Building Homes" honouring the lives of the brave men and women who have dedicated their lives to defend our country. The various events held in association with the fest are Build your Shield, Identity Crisis, Crisis Averted, Mind Games, Surveyors Quest, Le Carnivale and Revit Workshop.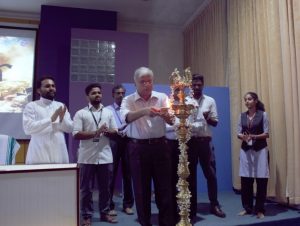 LIGHTS OF HOPE
The Civil Engineering Department of MBCET in association with CESA conducted a charity program "LIGHTS OF HOPE" as part of Utbhav 2k17 to help the underprivileged. The program was conducted on the 4th of March and PadmashreeMadhu was the Guest of Honour. Through this program the students aim to help Akshay, a 6 year old boy who has been suffering from diaphragmatic hernia and associated asthma since birth and Velukkuttichettan, who was diagnosed with severe diabetes resulting in the amputation of his leg. Apart from struggling to meet their daily expenses, both the above families live in half constructed houses. So the students have taken up the responsibility of renovating their houses.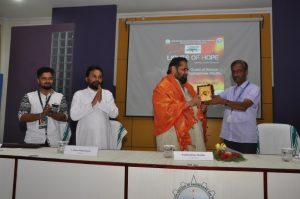 E-WASTE RECYCLE
The Department of Civil Engineering as part of Utbhav 2017 took initiative to reduce and recycle the e-waste around the campus. In a world where we live in constant danger of being buried by e-waste. E-waste was collected from the college as well as from students and faculty. All the proceeds of the drive will be used to building houses for the needy.
NATIONAL CONFERENCE ON ADVANCES IN STRUCTURAL ENGINEERING
Thiruvananthapuram: The 'National Conference on Advances in Structural Engineering (NASE 2017)' was organized by the Department of Civil Engineering, Mar Baselios College of Engineering & Technology, Nalanchira in association with Kerala State Council for Science Technology and Environment, and Indian Concrete Institute Thiruvananthapuram Chapter. The three day conference from 21st to 23rd of February 2017 was inaugurated by Mr. Nitin Agrawal I.P.S., ADGP Crimes, who is also a renowned civil engineer. Rev. Fr. Wilson Thattaruthundil (Bursar, MBCET) presented a momento to the guest of honour.  The inaugural function was preceded over by Dr T. M. George (Principal). and Dr. M. Satyakumar (Head of the Department) welcomed the gathering.
Talks by various eminent persons were organized for the delegates:
C.S. Manohar (Professor, IISc Bangalore), handled a session on 'Uncertainty Modelling and Reliability Analysis'
N. Ganesan (Professor, NIT Calicut), handled a session on 'Non-destructive Testing'
Jose Kurian (Team Leader, CDM Smith), handled a session on 'Signature Bridge'
J. Karthikeyan (Professor, NIT Thiruchirapally), handled a session on 'New Codal Provisions on Pre-stressed Concrete Design'
Jaya K. P. (Professor, Anna university Chennai), handled a session on 'Earthquake Engineering'
TALK ON "PLANNING FOR SUSTAINABLE TRANSPORTATION"
A talk was given to the final year civil engineering students on sustainable transportation by Dr. V ThamizhArasan, Vice Chancellor Vels University, on 20th January 2017 at Senatus Hall. He explained about the various transportation measures which will lead to sustainability, from his own experience.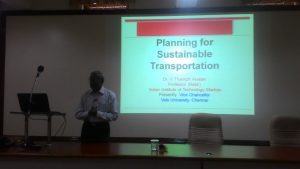 KERALA AT A GLANCE –Quiz Competition
As part of Keralapiravi, a quiz competition named "KERALA AT A GLANCE" was conducted for the civil department of MBCET on 1st Nov 2016. Quiz was all about Kerala. Seven teams participated with three members in each team.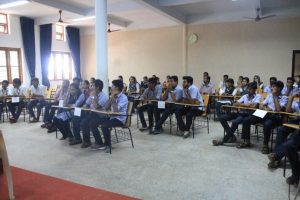 TALK BY EDWISE EDUCATIONAL CONSULTANT
Civil Engineering Students Association (CESA), organized a talk by "EDWISE". The event consisted of a talk about abroad education, its scopes and scholarships. Edwise, a pioneer in the field of 'GLOBAL EDUCATION' dispels all the myths usually associated with 'Study Abroad' and has brought the concept of overseas education to the doorstep of every student, by making it affordable & devoid of cumbersome procedures. All programs are covered from UG, PG to PhDs. The students were provided with various brochures showing opportunities of abroad education on each country, its details including fee expenditure, university and courses offered by each university. All in all, it showed the limitless opportunities of an engineer.
  THE DREAM TRACK – "Explore the future"
"THE DREAM TRACK – Explore the future" was organized on Oct 14, 2016 for the school students to provide an overview of the engineering course and set up an interactive sessions for them to explore their technical skills and creative ideas. The event included:
An Orientation Session by Professor Dr. M Satyakumar about the various branches of engineering.
Introduction to CAD Software – providing the students an opportunity to test their technical drawing skills.
Hands On Activity – Model making Competition for the students to explore their creative inborn talents.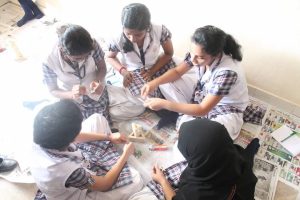 CHARITY BOX
Civil Engineering Students Association provided an opportunity for the individuals to recognise the social values within themselves by sacrificing a bit of their luxurious times to  provide reflections of jolly in the life of the unfortunate person's life. A Charity box has been inaugurated at the Civil Department on 23-9-16 by Dr. Shakuntala S Pillai, Dean R&D. The initiative taken behind this implementation is to raise the funds for the Thanal Activity, the Charity Wing of CESA. Every individual can make their valuable contributions to the charity box that prefers to get self-happiness and wishing for the benefits of the people requiring basic necessities.
  METAMORPHOSIS 2016
Metamorphosis-'16, A Short term course on "Kick-start your Civil Engineering Career" was conducted for the outgoing batch of CE students (2012-16 batch) from 23rd May to 27th May, 2016. It was inaugurated by Dr. J. Murali Krishnan, Professor, IIT Madras, in the presence of Prof. P. Rajayogan,  ASCE President, (India – Southern Section), Principal, Bursar, HODs of various dept. The 5 day course comprised lectures by academicians and experienced Civil Engineer on Safety aspects in construction, CE related software's that are presently in demand in Civil Engg. Firms, Standard procurement practices, Kerala Building and Panchayat rules, etc.  to name a few. Talks also included the opportunities and requirements of civil engineers in the public / private sector, in Interior designing and soft skill training. Site visit to Muttathara Sewage treatment plant and Field trip to Neyyar dam helped in imparting pragmatic references and practices of civil engineering. A separate session was included for the interaction of students with alumni which greatly helped in motivating them and clarifying various queries on entrepreneurship endeavors. A workshop was conducted by the UltraTech cements as a part of this which got the students get hands on training on Mix designing.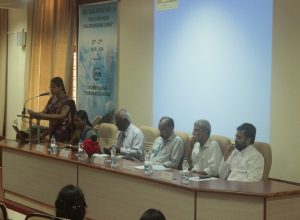 NASE 2015-16
A two day seminar was conducted on advances in structural engineering called "National Seminar on Advances In Structural Engineering (NASE)" on 7th and 8th of April 2016. It was attended by the B.Tech & M.Tech civil engineering students of Mar Baselios and eminent personalities holding key position in various civil engineering establishments delivered the talk. Inauguration was done by Padma Shri G Shankar, Architect, Habitat Group.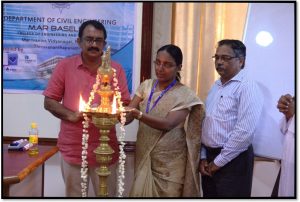 Other speakers were
Ruby Abraham, Rtd. Principal, RIT Kottayam on the topic Geo-polymer Concrete
Saravanan U., Structural Division, IIT Madras on the topic Structural Health Monitoring of bridges
Smitha M.S., Associate Professor, Civil Engineering Dept., CET on the topic Steel-Concrete Composite Sections
P. Jayakumar., GM, Civil, Light Metro, DMRC on the topic Light Metro Project
Sunil Edward., Asst. Professor., Dept. of Architecture, CET on the topic Green architecture
Narayanan S., Vice Principal and HoD Civil, Mohandas College, Trivandrum, and Former Professor, University Technology Petronas, Malaysia on the topic Load Factor Calibration
A. K. Asraff, Head, Structural Division, LPSC Valyamala on the topic Structural Plasticity
TALK ON ENTREPRNEURSHIP AND OPPURTUNITIES ABROAD FOR HIGHER EDUCATION
Mr. Rubin Sidharth, founder, Blue Nayan Educational Consultants, had addressed the 2012-16 civil students about his start up Blue Nayan which is an overseas education consultancy firm. He also gave an insight into the opportunities available for engineering graduates abroad and how the students have to approach about it. He also shared his experience and encounters he had to face while establishing his startup. He also enlightened the students about the vast opportunities and rich experience one could gain while owning a startup.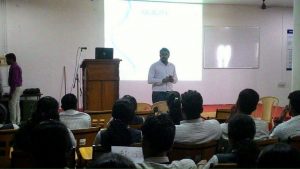 CONSTRUCTION SITE VISIT TO REDEMTORIST RETREAT CENTER, MUTTADA, TVPM
Sixth semester students were taken to the site from the collage on 23/03/2016, accompanied by faculty members Prof. P. S. Abraham, Dr. Neethu Roy, Ms. Linda Jose and Ms. Lekshmi Chandran. Students were given an opportunity to take a detailed glance at the sewer connection to septic tank of the building. Working of readymade septic tank and its merit were explained to students by Abraham sir. The septic tank used had a capacity of 100 flushes and can be used for minimum 15 years continuously. Outlets from all the flushes was connected to two pipes which was new system adopted by the engineer. Separate outlets were provided for WC and flushes.
 TREES FOR THE FUTURE
With the growing global concern for a greener tomorrow, the world's governments along with different organizations continue to propagate the importance of planting trees. In this course of time the S8 students of the civil dept. took the initiative to set an example of social commitment and invoke civic responsibility. As they are departing from the campus after four years of course, the students decided to plant trees as a tribute to their campus. They planted about 25 saplings in and around the college premises on April 20th, 2016. They also committed to do the necessary for the growth and nourishment of the plants.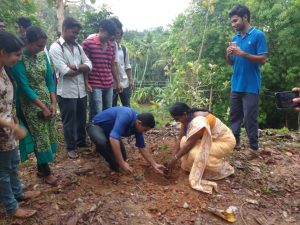 BATTLE OF THE WITS
Battle of the Witswas an English debate competition hosted by the Civil Engineering Students Association(CESA) and the ISTE-MBCET chapter on 26th August 2016. This contest was a test of speaking skill coupled with extempore speech as participants.  Theywere given only few minutes to prepare for the debate competition. Participation was open to all branches and all semesters to form teams of two. The competition was in two rounds. The first round Group Discussioninvolved pooling in contestants from various teams and then giving them a topic for discussion. Contestants were evaluated based on their speaking skill, teamwork, speech initiation, coherence and listening skill. The second round Classic Debate consisting of two semi-final rounds and one final round. Teams were evaluated on their teamwork, speaking skill, coherence and discipline.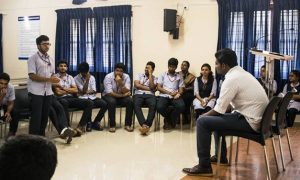 TALK ON "PERSONAL FOOTPRINTS"
Civil Engineering Students Association (CESA) in association with Nature club , Mar Baselios College Of Engineering And Technology organized a talk on "Personal Footprints " , on the 25th of August, 2016. The event consisted of a talk on personal footprints by the esteemed professor, Prof. D. Thankamony.Prof. Thankamony retired from the Environmental Engineering Division, Department of Civil Engineering of College of Engineering Trivandrum in 2010. She also served as a member secretary to the Kerala State Pollution Control Board in 2009. Prof Thankamony's life as a student and later as a faculty at the College of Engineering Trivandrum has found her green sheen waxing through years. She gathered ecological wisdom from her mother Smt. Devaki Amma.Prof.D. Thankamony began the talk by quoting the following words " There are enough resources for everybody's need and not for anybody's greed" – Mahatma Gandhi.Initially, she talked about carbon footprints – The total amount of greenhouse gases produced to directly and indirectly support human activities usually expressed in equivalent tons of carbon dioxide. Prof. Thankamony expressed her ideologies on water footprints and how we could preserve water. The water footprint measures the amount of water used to produce each of the goods and services we use. It can be measured for a single process, such as – growing rice, for a product such as a pair of jeans, for the fuel we put in our car, or for an entire multinational company. The water footprint also represents how much water is being consumed by a particular country- or globally-in a specific river basin or from an aquifer.She addressed the growing consumers of virtual energy and virtual water. Virtual water content of a product is, the volume of freshwater used to produce the product. It refers to the sum of the water used in the various steps of the production chain. She brought to our notice the amount of water being used to prepare a cup of coffee.She also drew attention to the high energy consumed to produce processed food items and how a big threat it is to our scarce and depleted resources. She also explained what a food mile was. Food mile – It is a term which refers to the distance food is transported from the time of its production, until it reaches the consumers.
TALK ON ENGINEERING TECHNOLOGY PROGRAMMES OFFERED BY KSCSTE AND PREPARATION OF R&D PROPOSAL
The first session of the  talk by Dr. AjitPrabhu, Joint Director, Kerala State Council for Science, Technology and Environment on 20 August, 2016 focussed on the different Engineering Technology Programmes (ETP) that are offered by KSCSTE to the faculty interested in research activities. He also presented various other grants that are offered by KSCSTE such as Technology Development Adaptation programme, Rural Technology programme, Scheme for augmentation of research and development, Science Popularization programme etc. The aspects covered by Sir were very relevant since most of the faculty are planning to pursue Ph.D in the continuing years. Sir also cited various examples from his experience which helped us get a better understanding regarding the application process for the grants.The second session dealt with the topic "How to prepare a sound research proposal". He discussed the various components of a research proposal and presented a step by step procedure for the preparation of a project proposal. This session was very informative to the faculty, as it gave a very clear picture regarding the preparation of a research proposal.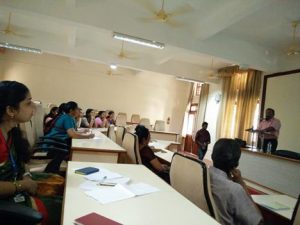 LIFE STYLE DISEASES – IT'S CAUSES AND PREVENTION
Civil Engineering Students Association, Mar Baselios College of Engineering and Technology organized a talk for Students and staff to update their knowledge about "Life Style Diseases – Its causes and prevention" on 28th July 2016 at Visvesvaraya auditorium. The programme was inaugurated at 10 am by Dr. Neethu Roy, Professor and Head of the Department of Civil Engineering. The talk was led by Dr. P. KusumaKumari, Professor and Head of the Paediatric Oncology Department of Regional Cancer Center, Trivandrum.There was a total of 240 participants from students and all the teaching and non-teaching staffs were also present. The talk mainly concentrated on life style diseases such as cancer, their causes and awareness. The physical, chemical and biological factors responsible for lifestyle diseases were discussed. The life style of current generation in food habits, exercise and how it leads to diseases were explained. The talk throughout explained the preventive measures to be taken against these life style diseases. This talk provided much information and awareness among the audience regarding the Life style diseases.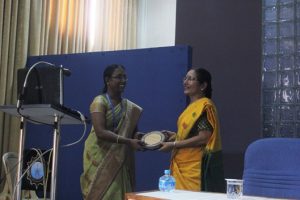 UTBHAV '16
Utbhav is the annual technical fest of the Department of Civil Engineering, MBCET. Over the years, Utbhav has witnessed students pouring in from all parts of India, thronging to participate in the various events conducted. The events test the skills vital for the civil engineer of today, right from technical aptitude to managerial skills.Utbhav '16 comes with the motto ' VAISHVIK LAKSHYAH ' [ Global Goals ] -BUILD WITH EARTH. The event is conducted on 26 th of February. The event is based upon the United Nations 15 year plan named Global Goals-for sustainable development. The Global Goals aims to achieve 3 extra ordinary things in the next 15 years ; end extreme poverty, fight inequality and injustice, fix climatic changes for which 17 goals has been set up by the UN. Out of which 8 goals are chosen to analyse,implement and publicize in a regional level. the outcome of the programme is to achieve solution to problems that hinder sustainable social development and bring about socially committed engineers.
 HOW TO KICK-START A CAREER IN CIVIL ENGINEERING CONSTRUCTION INDUSTRY
Talk on "How to kick-start a career in Civil Engineering construction industry" by Mr. S. N. Raghuchandran Nair, Managing Director, SI Property (Kerala) Pvt. Ltd. on 19th of September 2015.
 ARCHBISHOP BENEDICT MAR GREGORIOS CENTENARY CELEBRATIONS
The Department of Civil Engineering in association with COSTFORD conducted a Workshop on "The Vision of Archbishop Benedict Mar Gregorios on Sustainable Development and His association with Padmashree Laurie Baker" in connection with the centenary celebrations of Archbishop Benedict Mar Gregorios' on 11th September 2015. Rev. Dr. Samuel Mar Irenios was present to grace the occasion. Commemorative lectures include lecture on "Cost effective construction aspects" by Shri. P. B. Sajan, Joint Director, COSTFORD and lecture on "Laurie Baker's philosophy on cost effective construction" Shri. R.D.Padmakumar, Architect, COSTFORD. The afternoon session included hands-on training for the students. A photo exhibition was arranged in the lobby.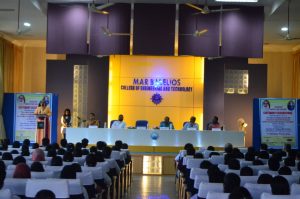 METAMORPHOSIS 2015
A short term course on the final phase in metamorphosis of civil engineering students was conducted for the outgoing Civil Engineering students during 19 to 23rd of May 2015. One can very well foresee the frustration of the fresh engineering graduates when they enter into the professional field. They may not be in a position to correlate what they grasp in the class and what they have to deliver in the field. The programme under this short term course was devised to have a smooth transition from the class room to the field of work. It is so planned to familiarize them with different demanding sectors of Civil Engineering profession. In conclusion all engineering students with Civil Engineering background can make the best use of the lectures delivered by eminent personalities with hands on experience in the field of Civil Engineering and grasp the practical side from the field trips and site visits arranged.
NASE 2014-'15
The second 'National Seminar on Advances in Structural Engineering (NASE 2014-'15)', was held during 13th and 14th, January 2015. Eminent speakers from IIT, NIT, SERC and other reputed institutions shared the venue. Technical talks and key notes based on the recent advances in structural engineering were arranged.
 UTBHAV 2014-'15
National level technical fest, UTBHAV, was held on 9th, January 2015. Utbhav 2014-'15 will be based on the theme 'AnuthamSrishti- Towards finest creations'. Past centuries have seen fine creations around the world with the new infrastructure and technology. AnuthamSrishti is a strive towards finest creations in the present world which may remain as a legacy for the future generations.
TALK ON 'VASTHU SHASTRA'
Shri. KanippayyurKrishnan Namboodiripad, VasthuShasthra Specialist, gave a talk on 'VasthuShastra', on 25th September 2014. It was an interactive section where the scientific aspects of VasthuShasthra was explained and the queries of the students were answered.
 TALK ON 'EXPERIMENTAL TECHNIQUES AND RESULT ANALYSIS ON RC STRUCTURES'
Dr. N Ganesan,Professor, NIT Calicut, gave a talk on 'Experimental techniques and result analysis on RC structures' on 25th July 2014. The talk covered various areas of material research, retrofitting of structures, special concretes and different experimental techniques with their result analysis.
NASE 2013
National Seminar on Advances in Structural Engineering (NASE'13) was conducted during 16th and 17th December 2013. Dr. Aravindan, Professor, IIT Madras (Rtd.) gave a key note on 'Basics of Analysis and Design'. Er. P. Srinivasan, Principal Scientist, SERC Chennai gave a key note on 'Condition Assessment Corrosion Affected Concrete Structures. Dr. N. Ganesan, NIT Calicut, gave a key note on 'Forensic Engineering and Retrofitting of RCC Structures'. Dr. Fadhil B. Nuruddin,UniversitiTeknologiPetronas, Malaysia, gave a key note on 'Evolution in Concrete Technology'. Dr. Narayanan S.,UniversitiTeknologiPetronas, Malaysia, gave a key note on 'Structural Integrity and Integrity Management'.
ASCE Activities
"ASCE aims to provide the platform for all young civil engineers to develop and grow to become globally competent, ethically strong and service minded engineers of the future."
MBCET STUDENT CHAPTER OF ASCE
American Society of Civil Engineers is a professional body founded in 1852 to represent Civil Engineers worldwide in over 177 countries. It was the greatest privilege to get the ASCE Student Chapter approved in Mar Baselios College of Engineering and Technology on October 3rd 2017. MBCET was the 1st college to receive this approval in Kerala under the ASCE India Southern Section.
The chapter was inaugurated on 13th November 2017 by the ASCE India Southern Section Secretary Dr. S. Basil Gnanappa and ASCE Student Chapter Practitioner Advisor, Mr. KesavanGangadharan. The function was concluded by an interactive and quality session by Mr.AnilkumarPandala (Managing Director, TRDCL) on the topic ' Unstructured Situations '.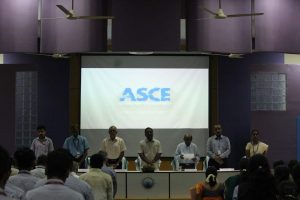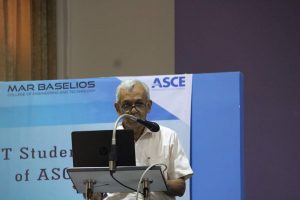 ASCE Committee coordinates and organizes events, talks, field trips, social events and meetings. The panel consists of Executive members, 6 committee heads, and a few volunteers guided by Faculty Advisor, Dr. Neethu Roy, Asst. Dean (R&D).
Executive Committee 2017-2018
President
Gokul G. Kumar
Vice President
Elizabeth Maria Alex
Secretary
Allen Varghese
Treasurer
Visakh V. S.
Coordinator
John Jacob
Coordinator
AbdurRahim
Coordinator
Anand N. P.
Coordinator
Aneeshkumar S. L.
Coordinator
Aiswarya S. L.
Coordinator
Rohit S.
Activity Committee head
R. Ananth Krishnan
Meeting Room Committee head
Abhinand R. S.
Fund Raising Committee head
Ajmal S. N.
Media and Publicity head
Jabob Abraham
Social Service head
Sherin Alexander
Membership Committee head
Maneesha Thomas
Executive Committee 2018-2019
President
Sherin Alexander
Vice President
Aneeshkumar S.L.
Secretary –Recording
Maneesha Thomas
Secretary -Acting
Abhinand R. S.
Treasurer
Ajmal S. N. and Visakh V. S.
Coordinator
Aiswarya S. L.
Coordinator
SuhailaFathima
Coordinator
Elvin Philip Thomas
Coordinator
AthulKurienOommen
Coordinator
Jacob Abraham
Coordinator
R. Ananthkrishnan
Activity Committee head
ShikhaSumam John
Meeting Room Committee head
Anusree G. K.
Fund Raising Committee head
Feba Paul
Media and Publicity head
Adithya T. A.
Social Service head
Vijitha Krishna
Membership Committee head
Asmina A.
WORKSHOPS
Two-day hands on workshop in association with Laurie Baker Centre (Costford Centre), Vilapilshala, Thiruvananthapuram.(10th and 11th November 2017)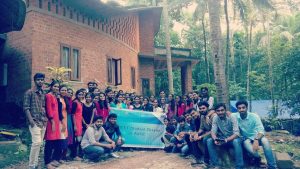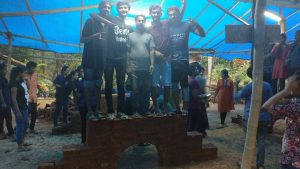 Two-day workshop on Revit Architecture in association with Intercad Systems at MBCET. (13th and 14th January 2018)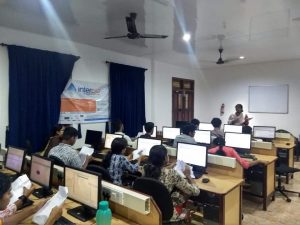 Adobe Photoshop Workshop was organized for all amateur designers.Session was led by Mr.SyedShiyazMirza, who is an engineer, freelance photographer, web journalist and a good technology writer.(20thJuly 2018)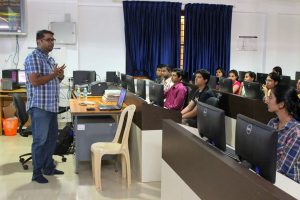 An induction programme for the first year students was conducted by the senior ASCE members to introduce them about ASCE and its functioning. (27th July 2018)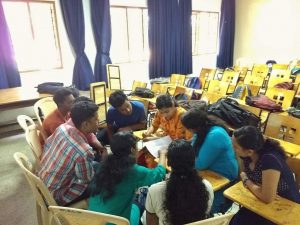 Two-day workshop on STAAD, conducted by INTERCAD. (8th and 9th September, 2018)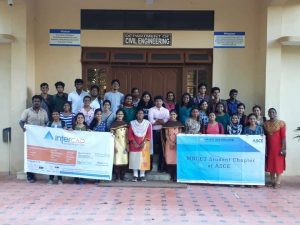 A 13 hour evening class was conducted on UNITY software from 4.30 – 6.30pm.
A one day workshop on LaTeX software led by Dr. Tessy Mathew, Associate Professor and HoD, Department of Computer Science and Engineering. (1stFebruary, 2019)
TALKS
Talk on "Sustainable Development and Alternative Building Techniques" by Mr. V. S.Jayachandran, Chairman, Builders Association of India, Trivandrum Centre at MBCET.
In association with IEDC, a talk on 'Virtual Reality- Innovations and applications in building construction' was given by Mr. Gopikrishnan V, CEO, Buildnext.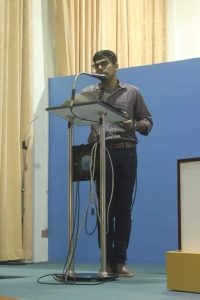 Know Your Alumni- KYA series organized by the student chapter was proud to have the student, AbhaySankar, from the 1st civil batch of Mar Baselios College of Engineering and Technology (2005-2009) interact with the final year civil engineering students, on 26th November, 2018.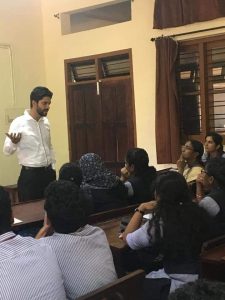 A talk on 'Special Concrete' by Dr. Sunitha K Nayar, Asst. Professor, IITPalakkad for the M tech and Senior students was organized.
ICID- INTERNATIONAL CONFERENCE ON INFRASTRUCTURE DEVELOPMENT: ISSUES, INNOVATIONS AND THE WAY FORWARD
ICID conference was held from the 21-23rd of June.Keynote Lectures by eminent speakers and Paper Presentations were done by the participants on Transportation, Structural, and Geotechnical Engineering. 3 parallel sessions were conducted as pre conference workshops:
– Sustainable Pavements and AssetManagement at Kanakakunnu
– Structural Simulations using FEAST at MBCET
– A technical tour of Greenfield International Stadium
All the members actively volunteered for the conference to make it successful one.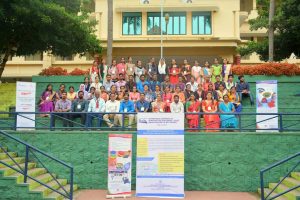 FIELD TRIPS
Site visit to Greenfield Stadium, Karyavattomguided through by Mr.Muthanna K. M., Vice President.(20th January 2018)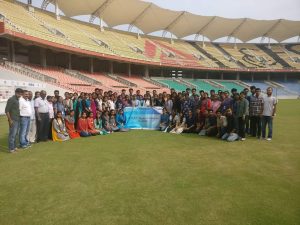 Kazakuttom – Mukkola NH widening, a work under NHAI, was visited on 14th September, 2018 for the highway pavement elective students of seventh semester.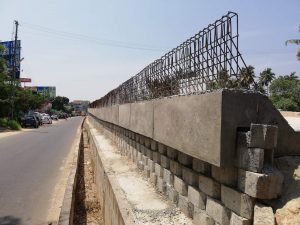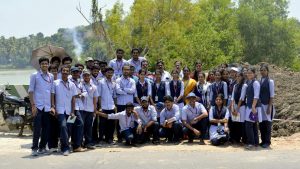 For the final year students, a site visit was arranged January 18th, 2019 to the KSEB (Kerala State Electricity Board) Prestressing Yard at Kollankode.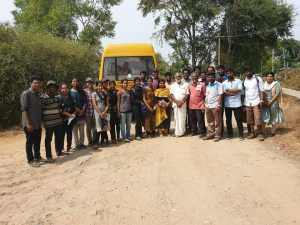 SOCIAL EVENTS
One-day interactive technical awareness session for the school students from the Okhi (Cyclone) affected regions of Poonthura, Thiruvananthapuram and distributed geometry boxes for each student.
Members of our Student Chapter and the students and faculties of Civil Department rose to the need and showcased their social responsibility for flood rehabilitation program. Surveys were conducted for every household affected by the great floods as part of the data collection. Many spent hours of time at relief camps and at the airport in helping load and pack the cargo for the flood affected regions.
On Engineers day, as part of the post flood rehabilitation, poster designing competition was organized for the students of MBCET with the theme "KeralithinuoruKaithang" (A helping hand for Kerala).SenthilNath R. was declared the winner for drawing the best poster related to the theme. (15th September, 2018)
Photography contest was organized on theme, "Kerala – We build and will definitely rebuild". Sreekesh S. emerged as the winner.
Some of the members of the chapter helped to spread smile and happiness by conducting a musical programme and provided a Christmas lunch to inmates at 'Snehasadanam', a care home for the mentally challenged on 29th December, 2018.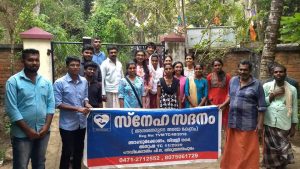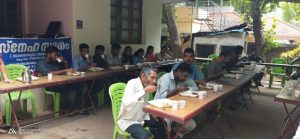 A book collection drive was organized for setting up a library for the students at SanthivilaSchool, Nemom. The books were handed over to the school students on 8th February, 2019, during their school assembly by the executive members.
MEETINGS
A Memorandum of Understanding was signed by our Chapter with the Builders Association to improve the career opportunities for the students.
A meeting with Dr. Kuncheria P. Issac, Practitioner Advisor, was held to discuss about conducting a Student Summit with the theme 'Smart City'.
One of the initiatives we took was 'The Glimpse' which was a one hour show at the Laurie baker hall during all Fridays. The innovative ideas and developments are shown on a big screen where all are welcome.
TECHNICAL EVENTS
"Arpenteur", the technical event for every surveyor was organized as part of Technical fest Utbhav, Department of Civil Engineering. (14th March, 2018)
"Ente City", the technical event with the theme 'Smart City', was conducted in association with the Builders Association of India, as part of Crossroads'18. (4th March, 2018)
To create a sense of excitement in building structures and models, an exhibition of the sustainable house model done by the 1st year students of Civil and Mechanical Engineering was conducted on 29th November, 2018. The model structures were judged by Dr. M Satyakumar, HoD, Dept. of Civil Engineering, MBCET and Prof. P. S. Abraham.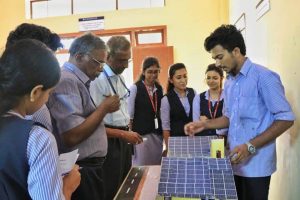 ACHIEVEMENTS
ASCE members won 2nd prize for the concrete cube competition conducted by Indian Concrete Institute.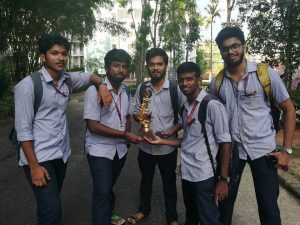 Funding by the CERD for the project 'Product Design and Fabrication of Perforated Interlocking Concrete Paver' for S7 students- Ananth Krishnan R., Joelene Godwin, GopikaThampi and AmalBabu guided by Asst. Professor  Muthulakshmi P.
1st place for the 'Shot Put Design Competition' using concrete by the student chapter members at ASCE National Conference held at NMIMS, Mumbai. The team who worked hard for this work was: Rohit S, Sreekesh S., Akshay A. R. and Aneeshkumar S. L.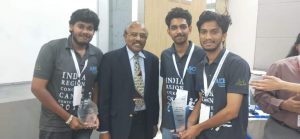 Thanal Activities
Thanal is the societal bureau of the Civil Engineering Department, which keeps on rendering generous services to the under-privileged members of the society. Some of the notable activities are as follows
An amount of forty-two thousand rupees was donated to the homeless family for the construction of their small house located at Aruviyodu, Mannanthala.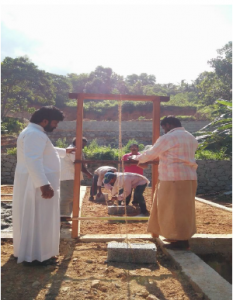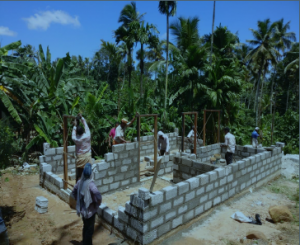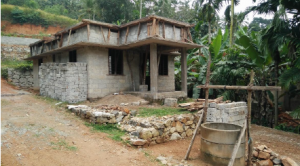 An amount of ten thousand rupees was donated for the treatment of a cancer patient of SreeChithira medical center, Trivandrum.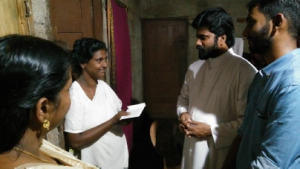 Constructed a Roof of a house in Puliyarakonam, Vilapilshala Village.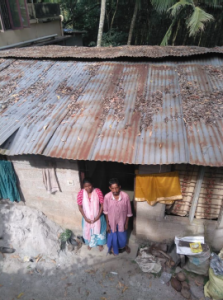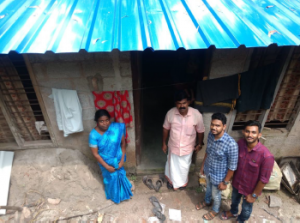 ·         A small pack of food items and needed items of three thousand rupees were donated to the people suffered from the flood.

·         Thanal collected and distributed an amount of Rs.20000/ to the needy people identified by the Pallium India.

·         Thanal also distributed food kit to 40 families in the ockhi affected area (Poonthura).

·         Thanal members arranged onasadya at an old age home at Pulayanarkota which had about 106 inmates and the students conducted cultural programs for them. More than 40 students participated on 10th September 2016 on the occasion of onam.

·         On 8th October 2016 the world palliative care day, along with pallium India Thanal members arranged cultural event at Veli Youth Hostel for patients of pallium India.

·         On the occasion of Christmas the faculty members and other staffs of civil department visited Sadhana Renewal Centre, Manvila which had 84 gent inmates and Snehashramam Lady Centre, Manvila which had 10 lady inmates on 22th December 2016. Old dresses collected from the department were distributed among them.

·         Mr. Akhil Raj, Mr. Arun V.M, Mr. AkhilMuraleedharan and Mr. Tom George along with the Eighth semester B.Tech students constructed a bathroom for the underprivileged at Venkode during May 2015.

·         Thanal in association with Pallium India visited 35 families and Distributed Onam kits to 7 Panchayats in Vizhinjam – Muttakkadu region.  About 30 Students from S3 CE1 and CE2 were accompanied by Mr. Akhil Muraleedharan, Mr. Akhil Raj, Ms. Linda Jose and Ms. Chandni JBasu.

·         Thanal associated with Pallium India in organizing a cultural event for the Pallium India inmates at Veli on 19th December 2015.

·         Thanal Members constructed a bathroom for an econcomically challenged family at Chempakamangalam during October 2015.

·         Thanal Members constructed a bathroom for an economically challenged family at Vengodu during May 2015.

·         Thanal members distributed onam food Kit to families at Vizhinjam and Kovalam during April 2015.

·         Thanal associated with Pallium India in organizing a cultural event for the Pallium India inmates at Shanghumugham hall during January 2015

·         Thanal associated with Pallium India in organizing a cultural event for the Pallium India inmates at Satyan Memorial hall during December 2014.

·         Thanal members distributed Onam kit with rice and required groceries to 35 families of palliative patients at Poovar during September 2014.

·         Thanal members visited Care home charitable society, Pulayanarkotta on 06 April 2014 and the students contributed their time in cleaning activities and offered lunch for all the inmates

·         Thanal members attended the World Palliative Care Day celebrations held at Valid duringOctober 2013 and help transportation facilities to bring the patients to the venue and they also conducted various programs to entertain the patients

·         Thanal members distributed Onam kit with rice and required groceries to 10 families of palliative patients at Nedumangad and Vithura on September 2013

·         Thanal members of about 50 students from the Civil Engineering Department visited an institution for the mentally challenged, at Pangappara on 28th July, 2013.

·         Distributed medicines worth Rs. 30,000 to a medical camp at Attapadi.

·         Distributed Onam kits with 5kg rice and the required groceries to 10 families of Palliative patients at Muzhukkumpuzha.

·         Thanal joined Pallium India –which is A national registered charitable organization to Celebrate World Palliative Care day on 8th October 2012.

·         Visited an old age home at Chakkai having nearly 100 inmates on Independence day. All inmates were provided with food, clothes and bedsheets and Thanal members spent useful time with the inmates sharing their stories. We were able to have an insight into the attitude of the society to their desolate and deprived parents.

·         Gifted sarees, shirts and trousers to the needy people at SreeChithra poor home and Palliative Centre, Pattom.

·         With the alumni of Civil Engineering Department, Thanal members visited Balabhavan and Bhalikabhavan at Kattala and provided lunch to all the inmates.

·         Thanal joined Pallium India –which is A national registered charitable organization to Celebrate World Palliative Care day on 8th October 2011. The members volunteered in bringing the physically challenged people for the SnehaSanthwanaSangamom and spent the whole day with them and ensured that they reached back safely to their homes.

·         Visited a palliative patient affected by polio at Nandiyode and financial assistance of Rs.5000 was given to him for the marriage of his daughter.

·         As part of the fund raising for the activities of Thanal, a lucky draw was conducted during Utbhav 2011 and all the winners of the lucky draw were given attractive prizes like mobile phone, MP3 player etc.

·         All the prizes were donated by the Thanal members. So the total sale proceeds turned out to be the profit to Thanal.

·         Donation of Rs. 10,000 was made to a cancer patient for his surgery.

·         Distributed Christmas kits with 5kg rice and the required groceries costing Rs.500 each to 10 families of Palliative patients at Muzhukkumpuzha.

·         Constructed a second house at Kilimanoor costing Rs. 100,000, the key of that building will be handed over to Sri. Gopinathan today.

·         Thanal member visited NirmalaShishuBhavan, palayalam and Snehaveedu, Nalanchira.

·         Organized a medical camp at the adopted village at Kilimanoor with the cooperation of doctors from S.U.T Hospital, Vattapara. Doctors from various specialities like ENT, Dermatology, Pediatrics, Ortho and Neuro were present at the camp. Patients were given free medicines. Around 250 villagers benefitted from the camp. Medicines worth Rs. 15,000 were distributed in the camp.

·         Provided onam kit containing rice and the required groceries and provisions for a month to a deserving family.

·         Thanal was successful in constructing a house for a destitute lady, mother of a mentally and physically challenged person, at Kilimanoor. The completed building was handed over on 17th March, 2011.

·         Visited Nirmala Shishubhavan on 9th October, 2010 and provided the baby inmates with protein rich baby food, gifts and clothes.

·         Thanal members visited Mother Theresa orphanage.

·         Adopted Malavedan tribal colony, the inhabitants of which were completely deprived of community life, at Pappala near Kilimanoor. They were educated and given continuous awareness sessions about the Importance of education, health and sanitation. Thanal celebrated Christmas with the tribal people by presenting them Christmas cake, gifts and clothes to the children over there. Frequent association and interaction with the children of the village could help to bring them out of the dark dungeons of the social backwardness to a certain extent.
Utbhav
Utbhav 2018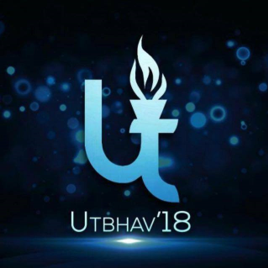 We Indians are proud about our talented youngsters, leaving a mark in various levels of sports including the Olympic games. But often, the able-bodied athlete with ideal body, is thought of as a pillar of strength, of someone who is admired. We dedicate Utbhav 2k18, to remember and honour those people, disabled by strength, but abled by their willpower, the real heroes of sports. The fund we raise and the profit obtained by this fest will go to THANAL, the charitable organisation run by the civil department, from where it will reach the rightful and felicitous athletes. Let's honour them, the people who gave their strength and life to the field of sports.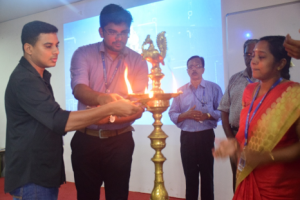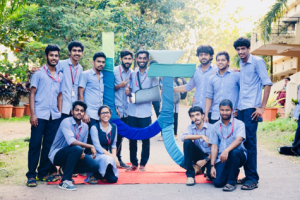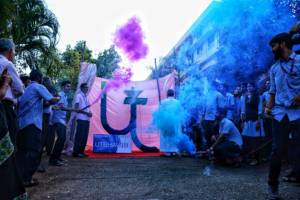 PUBLICITY EVENTS
Logo Reveal Function on 27th February 2018
The logo of Utbhav 2K18, was released on 27th Feb 2018, tuesday in front of the Civil Dept. Dr M Satyakumar,HOD, Dept of Civil Engineering,MBCET revealed the logo at 4.40 pm.Rev.Fr John Vilayil, Bursar, MBCET lightened the lamp. The event attracted a large crowd.
3'S Football
A 3s football match was organised on 11th march 2018 at Mar Ivanious Ground. There were 12 teams.
Cake Fest
A cake Fest was arranged on 12th march 2018, near cafeteria, MBCET at 11am which was a huge success.
TECHNICAL EVENTS
CRISIS AVERTED
Imagine you are in a room with a padlocked door. You have twenty seconds to escape before a torpedo hits it. Presence of mind and quick wits can take you farther than actual technical skills. Utbhav'18 presents "Crisis Averted", a Situation Management contest, testing your abilities to act and react to a given problem. Our task is to give you every situation to make you fail, and yours is to overcome every situation that can make you fail-by turning it into your advantage! Come, join us for the challenge that can perplex the greatest of escapists!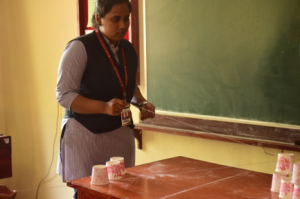 There will be a total of two rounds
• Prelims – A preliminary round will be conducted in which a questionnaire will be given to each team and they need to answer each question appropriately within the specified time of 15 minutes.
• First Round:- "QUENCH THE QUEST"
It is a task round in which only 3 teams will qualify to the next round.
•Second Round:- "TACKLE THE CRISIS"
The finalists should present solution to a given crisis followed by a interative session with the judges.
COUNTER SRIKE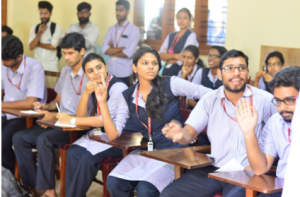 It's better to debate a question without settling it, than settle a question without debating it'. Argue to your heart's content for or against a topic, watch your words convince the audience and the judges of your stand. So polish your oratory skills and convincing powers as Counter Strike brings to you the ultimate debate competition.
The event consists of three rounds: Prelims, Semi-finals and Finals.
•The Preliminary Round consists of testing your Oratory Skills. The best four teams will be selected for the next round
•Semi-final Round consists of testing your marketing skills for which a subject will be given and the teams will have to show the expertise in it. The best three will be selected for the finals
•Final Round will be a debate round where the teams will have to debate on the topic given and exhibit their talent.
SYPMOSIUM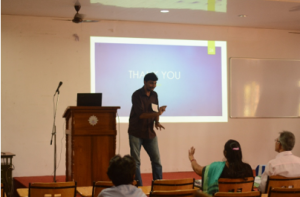 It's time to unleash the technical knowledge and the talent within you. All you need to do is to fuel your brain to ignite the ideas that never existed. Sharpen your technical and presentation stills at our launch pad for students to discuss the emerging technology issues, explore a variety of perspectives and probable solutions. Speak clearly, if you speak at all. Carve every word before you let it fall. Take up the challenge to drive home your genuine ideas and understanding. Who knows this could be your first step to fame and glory!
BOB THE BUILDER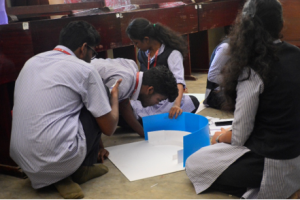 Creativity is all about seeing what is invisible to others. The time to give rise to the limited out of the unlimited, to the valuable out of priceless and to abundance out of nothingness. This event calls for vernacular thinking, brilliant ideas and teltale's coordination of members. The event is open for all those who have an innate passion for structures.
Competition includes 2 stages:
•Preliminary stage- Aptitude test
•Model making
BRIDGE IT
Tradition always holds up its values. Likewise, the art of surveying will forever be etched in the heart of a civil engineer. In this event, the designing skills of a civil engineer will be put to the utmost test. Storm your brain, clink your arms, buildup a Solution. Mash up your teamwork and spontaneity to fascinate us with limited resources.
It's time to materialize your bridge with innovative design concepts and blow everyone's mind! Then get ready to scrap your brain and use every grain of your intelligence to delve into the mysteries of solutions.
The event consists of two rounds
• First round:- Aptitute Test
• Second round:- Model Making
CERCA TROVA 
It's not just unlocking clues and solving puzzles.We take you through a quest where all your sporting skills will be put to test !!! The promise of the hidden treasure will keep you sherlocking through the beautiful terrains of Mar Baselios College.
The event consists of two rounds: prelims and finals.
•The prelims will be a written test round.
•The best 4 teams will qualify for the finals.
•Each team will be given their first clue and to get the further clues the teams will have to win the tasks at each spot within the specified time limit.
•Failure to complete the task in the given time frame will lead to a time penalty as specified. Follow the lines and stay wary of these conditions
CRIC PARTY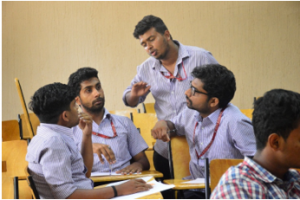 Cricket is not just a battle between the bat and the ball. It is beyond that. Beyond the 22 yards, the wides and the no balls, the fours and the sixes, the ducks and the centuries, the win and the loss, lay the inevitable element of cricket – A WAVE OF EMOTIONS
It's time to unleash the cricketing knowledge of the sharp young minds on the game of cricket and its dazzling arena of champions.Solid quizzing potential minds will fight it out against each other to earn the right to be called the real champs.
There will be two rounds:
• First Round:- Quiz Round
• Second Round:- Auction Round, in this round teams have to create their own cricket teams based on given conditions
THE ARPENTEUR
There will be 2 Rounds:
•Preliminary Round: Crossword puzzle based on CIVIL Engineering
•Final Round: 2: To test the knowledge in surveying and Efficiency Teams that qualify Round 1 are given a on field challenge. A field investigation is to be done by the team using given items. SEE IT, SOLVE IT.
INSIG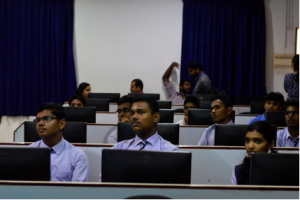 The UTBHAV team welcomes high school kids for a sneak peek into the art of civil engineering. Come join us, find your hidden dreams and Ignite your concrete core! The event titled INSIG aims in providing a compact picture of the engineering course to the students A set of interactive sessions are lined up to explore the technical and creative skills of young growing minds.
The list of programmes scheduled for the event are:
1. Orientation :
Session conveying a basic outline of various engineering branches. (Duration:-1 hour with interactive sessions thereafter.)
2. Hands On Activity :
Model making competition for the students to explore their creative talents.
PHOTOGRAPHY WORKSHOP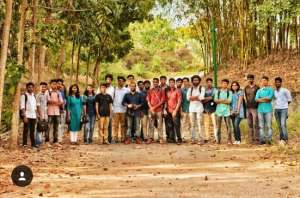 Photography workshop was done on 11th March 2018. It had interactive sessions and photowalk inside the campus of MBCET done by the famous artist and commercial photographer Mr. Sreejith K Soman.
INFORMALS
Informals were done along with other technical events on 14th March 2018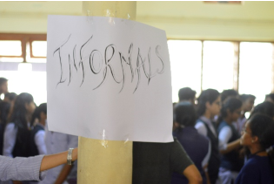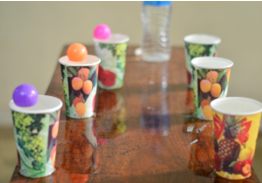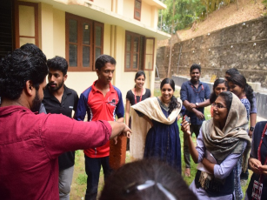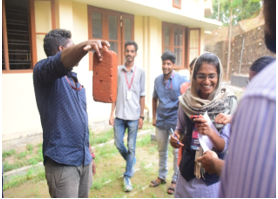 Other Activities
Professional Students Summit
MsShekhaSuman John of S6 CE has participated in the professional student's summit conducted at the Cochin University of Science and Technology on 9th February 2019.
Rebuild Kerala
Ms. GopikaThampi and Ms. Gouri S of S8 CE participated in the two day programme on Rebuild Kerala organized by Kerala State Disaster Management Authority, Govt.of Kerala, during 7th to 8th February 2019.
Seminar on Nava keralaNirmrithi and Bhooviniyogam
Kerala State Land Use Board in collaboration with Haritha Kerala Mission, organised a seminar on the title "Recreation of Kerala and Land usePlanning" as part of its awareness programmes aimed at conveying the importance of proper land utilisation and land husbandry. The seminar was held on 22nd Jan 2019, at Bhagyamala auditorium, TVM and was inaugurated by K Muraleedharan, MLA. Representatives from various professional institutions, officers from various government departments, researchers, environmentalists, etc exhibited their complete participation in the seminar. The important topics that were discussed included 'Eco-friendly construction techniques', 'Agricultural development and land use pattern', 'River basin development', 'Modern aspects of land use planning' etc.  Mr. Tom George and MsNimisha Anna Jacob, Asst. Professor, Dept. Of Civil Engineering, along with MsGowri.S.S, Ms. Gopika Chandran and MrAdithya.T.A of S6CE participated in the event.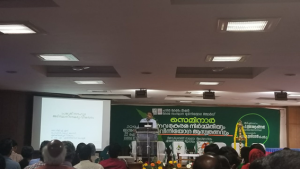 Vision
To be a Centre of Excellence in Civil Engineering education with a global perspective, creating ethically strong engineers for the service of society.
Mission
To provide Engineering Education which can create exemplary professional Civil Engineers of high ethics with strong conceptual foundation coupled with practical insight, to serve the industry and community.