Achievements
Student Achievements
Drishti 2K22 Tech Conclaveat
As part of Transportation and Development with K-Rail, a competition was conducted by K-Rail on Drishti 2K22 Tech Conclaveat at CET. From 30 entries 7 entries were shortlisted for the idea pitching/presentation round. Our team consists of Bharath B L, Rahul S, Roshni S Nair, and A P Prasanthi of S6 CE2 secured the first prize in the competition. They were guided by Dr. M Satyakumar (Professor, CED). Special acknowledgment to Mr. Sijo M Saji (Assistant Professor, CED) and Dr. Praveen P S (Assistant Professor, CED)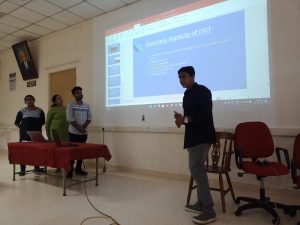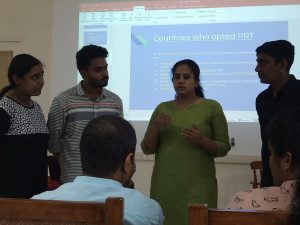 Alumni Achievements
Paper titled "Numerical Analysis of Fibre Reinforced White Topping Pavement Under Wheel Loading" authored by Dr. Jisha S V, Dr. M. Satyakumar and Remya Valsalan (M. Tech 2017-2019) published a full paper in the springer sponsored 6th Conference of the Transportation Research Group of India (CTRG-2021) organized by National Institute of Technology Tiruchirappalli, during 14 – 17 December, 2021.
M Satyakumar (Professor, Department of Civil Engineering) and Ms. Aleena Seban (M.Tech 2017-2019), paper titled "Numerical Slosh Studies of Multiple Ring Baffles in a Semi-Cryogenic Fuel Tank" got published in 'Advances in Structural Integrity', pp. 321-328, 2022.
Gayathri D.S., M. Tech Structural Engineering (M. Tech 2017-2019) guided by Ms. Parvathy U., Assistant Professor, Department of Civil Engineering, got PhD admission in Kerala Technological University at College of Engineering Trivandrum under AICTE Doctoral Fellowship 2020-2021 Scheme.
Awards

Mr. Thouzeef Hussain A (M. Tech 2017-2019 batch) CE department guided by Dr. Jayasree S received an award for outstanding thesis in the field of concrete – masters for the topic "flexural behaviour of prestressed fiber reinforced lightweight concrete beams", at concrete day celebrations and ICI- UltraTech awards 2020, organized by Indian concrete institute and UltraTech cement Ltd.
Er. Santhi Sara George MBCET alumni from CE department received outstanding young concrete engineer award from Indian concrete institute and Ultratech Cement Ltd. on concrete day celebration and ICI- UltraTech awards 2020.
Mr. Jyothis S, Alumni CE Department (2005 -2009 Batch) was awarded as the Best Engineer of the year by Institute of Engineers (India) Kerala state center on the occasion of the 54th Engineers Day
Vision
To be a Centre of Excellence in Civil Engineering education with a global perspective, creating ethically strong engineers for the service of society.
Mission
To provide Engineering Education which can create exemplary professional Civil Engineers of high ethics with strong conceptual foundation coupled with practical insight, to serve the industry and community.